New Labels Try to Nudge You to Better Fuel Economy Decisions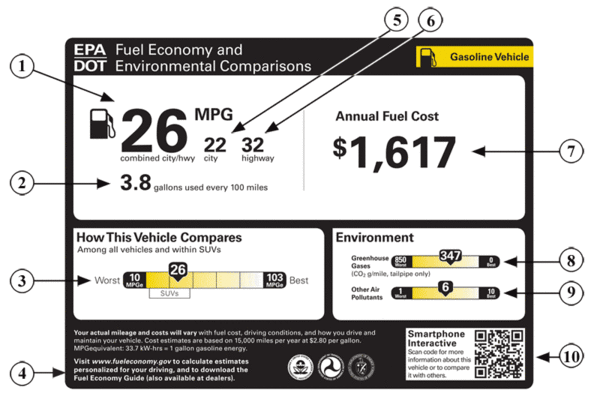 The Environmental Protection Agency revealed new fuel-efficiency labels this week. What's remarkable about them is the care that went into their design. (Here's the full set of them in a PDF).
I think about all kinds of design as attempts to organize human behavior without mandating it, and the new labels are a great example of that idea.
They try to get consumers to think more clearly about the true costs of purchasing a car. What we've learned since the 1970s is that simply telling people, "Hey, that gas guzzler is going to be more expensive than a comparable model that's more fuel-efficient," doesn't work very well. People's brains just don't process the information very well.
"The old labels are just not good enough anymore," David Strickland, the National Highway Traffic Safety Administration administrator, told the New York Times.
The hope with these labels is that improving their design could improve human understanding of the information presented to us. Then, we'd make more rational decisions and some of the problems of oil dependence would be mildly ameliorated.
That light-touch vision squares nicely with Administration advisers' like Cass Sunstein's idea that you can "nudge" people to socially optimal outcomes by presenting decisions to them in the right ways.
That could be tough, though. Research from the University of California Davis Institute for Transportation Studies found that despite whining about gas prices, few people actually know how much money they spend on fuel for their cars, and most overestimate how much money they spend each year on it.
I like the new labels, but our problems with oil are deeper than a window sticker can solve.
Via Clive Thompson