How Data Centers Are Reshaping Rural Oregon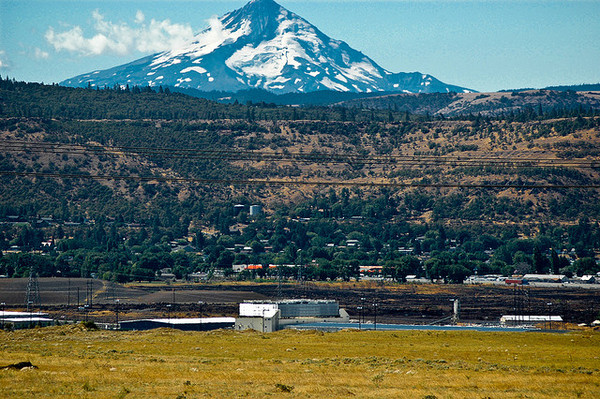 Thanks to good fiber optic access, a cooperative climate, and an Oregon law that provides tax incentives for building facilities in rural areas, the eastern reaches of the state have become a hotbed for the big data centers that power the web's largest websites.
The Dalles, strung out along the Columbia River, has become home to Google, Yahoo, Microsoft, and T-Mobile. The data business is booming.To residents of rural Oregon, Big Data actually means new big buildings, construction jobs, and tax revenue.
Now, in a wonderful piece of reporting from The Dalles Chronicle, we hear about Facebook's move into Prineville, a small town about 100 miles south of The Dalles right in the heart of the state. The article underscores just how much web companies can shape small town infrastructures, both physical and political.
For example, Facebook's 150,000 square foot data center could use 30 megawatts of power, although the company says it won't be quite that big of an electrical draw.
According to [Crook County judge Mike] McCabe, the phase of the project now under construction will use 30 megawatts of power, and Facebook has requested that Pacific Power, the local utility, eventually provide up to 90 megawatts to a new substation under construction on the company's property.

"Let me put that in perspective for you," McCabe said. "Crook County, before Facebook got here, used 30 megawatts. That's irrigation projects, hospitals, schools, households."

These data centers cost hundreds of millions of dollars and provide a few dozen jobs in places where there are just not that many jobs. (Crook County's unemployment rate is 16.5 percent.) Plus, to receive the tax credit the Oregon law requires companies to pay their employees 150 percent of the average salary in the local county. These are plum deals for municipalities.
But with the money comes social anxieties about what bringing in a big outside company will mean for a town. The Dalles Chronicle obtained dozens of emails from that city's local officials trying to get Google to reveal details about its operations. It appears they were largely rebuffed, causing one official to cite the company's "extreme secrecy." Facebook's trying to ease those concerns by reaching out to civic groups like the Kiwanis Club and cozying up to local officials.
"This is not cloak-and-dagger secrecy here," [Facebook's Ken] Patchett said. "That's one of the biggest things that we've learned versus some other data centers that have been built. Be open."
Image: Google's datacenter in The Dalles. thestroms/flickr.