Hear, Hear: And Now for Some Drinking Maps
Put down your beer for one second and check out these drinking maps.
On Tuesday, The Economist posted the following map of global beer drinking, using multiple sources for their data. China seems to have already won this race, but the U.S. isn't too far behind. Also, kudos to South Africa for being the only African country to make the cut.
That same day, over at his GeoCurrent Events blog, Stanford history lecturer
Martin W. Lewis
created and analyzed
three maps documenting the change in American drinking between 1970 and 2007, noting that our habits have been homogenizing. "Drinking habits tend to be culturally specific, freighted, and revealing, and in the U.S., the evidence on this front points undeniably toward convergence," he wrote. In other words, our drinking world is flat. His maps follow, but you should read his original post since he provides some useful context.
U.S. Alcohol Consumption:
1970
|
2007
|
Change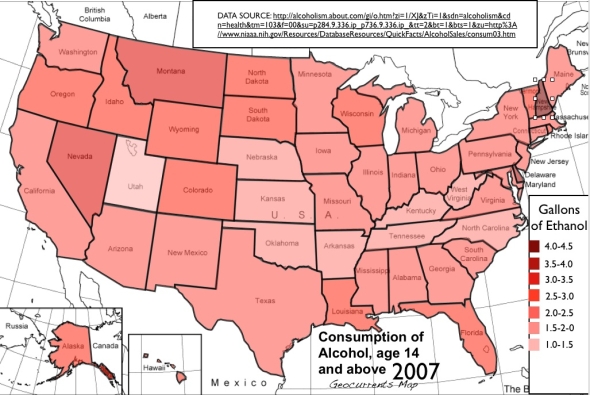 Then, on Wednesday, Lewis followed up with a post on wine drinking. Alcohol is, after all, "a broad category, and in different parts of the country, people favor different drinks." His takeaway is that wine consumption is on the rise and it's been converging, too, but in this case the convergence is regional, not national.
He's also careful to note that, with Idaho and New Hampshire tied for the top wine-drinking spot, the data may be "somewhat suspect." Check out his maps below and, again, the original post has some good context. Oh, and you can pick that beer back up now.