DOE Chief Chu Adds Political Muscle with New Advisory Board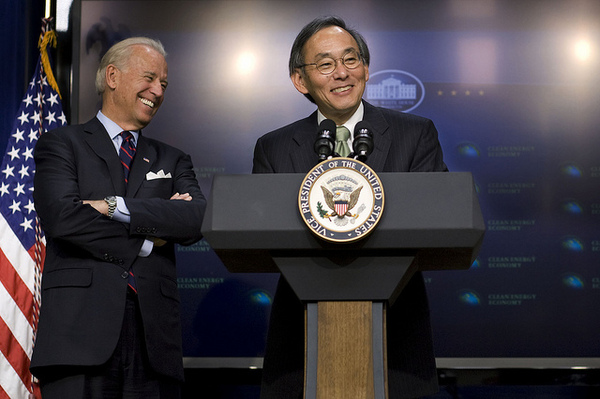 Steve Chu has a new set of advisors, the Department of Energy announced today. The twelve-member board is surprisingly old-guard for a DOE chief from outside the Beltway.
These are insiders who know how to fight in Washington's trenches. They are not Silicon Valley. They are not really innovators, aside from Art Rosenfeld and Nick Donofrio. Energy may be an avocation for many on the list, but few have dedicated their lives to the field.
A couple of examples to make the point: John Deutch advised Jimmy Carter on energy, then went on to helm the CIA under Bill Clinton. William Perry served as Secretary of Defense in the 1990s and is affiliated with the Hoover Institution. Norm Augustine was the CEO of Lockheed Martin, an under secretary for the Army, and chaired a controversial panel on NASA's future last year. If Augustine were a Pulp Fiction character, he would be The Wolf (Harvey Keitel), the mob fixer brought in to clean up messes.
Here is the full Secretary of Energy Advisory Board:
Norman Augustine, Former Chairman and CEO, Lockheed Martin
Ralph Cicerone, President of National Academy of Sciences
John Deutch, MIT Chemist, Former Under Secretary of Energy
Nicholas Donofrio, Former EVP of Innovation and Technology, IBM
Alexis Herman, Former Secretary of Labor
Chad Holliday, Jr., Former CEO of Dupont
Michael McQuade, Senior VP, United Technologies Corporation
William Perry, Former Secretary of Defense, Stanford University Professor
Arthur Rosenfeld, Former Commissioner, California Energy Commission
Susan Tierney, Managing Principle, Analysis Group
Steven Westly, Managing Partner, Westly Group
Daniel Yergin, President, Cambridge Energy Research Associates
Nominally, the group will "provide advice and recommendations to the Secretary on the Department's basic and applied research, economic and national security policy, educational issues, [and] operational issues."
But looking over this list, it seems obvious that Secretary Chu is gearing up for a new political battle and realized that he needed a little more Beltway muscle.
Image: Department of Energy.