Typically, three-dimensional scanners are used to precisely copy objects, but the folks over at fashion shop United Nude are using scanning technology to deconstruct them.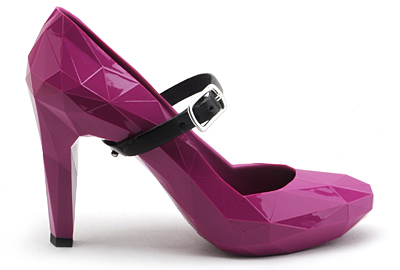 The shoe seller is developing a design method as part of their "Lo Res Project" based on scanning real-world objects and then reducing the detail of the scan, creating a minimalist, polygonal design. For $260, you can buy a shoe (right) made using the process. (The shoes come in black, magenta, green and brown.) United Nude describes the method on their site:
Resolution means the amount of information per area; most commonly used to describe two-dimensional (2D) data, like images in dots per inch (DPI). The United Nude Lo Res Project is in three-dimensional (3D) resolutions: each object can be described by a series of 3D points and when these are connected, triangles appear. In a high 3D resolution (high density of points) the triangles are small and the shape appears smooth. As the 3D resolution is lowered (less density of points and therefore bigger triangles), the object becomes more and more fragmented, changing its character in the process.

The project began two years ago with a wine glass (below) and they moved on to test it on various other objects such as a chair, motorcycle, and Lamborghini Countach (also below). United Nude plans on releasing software that will let users "benefit from more automated and semi-automated design" with the help of INUS Technology, which makes 3D scanning software Rapidform.
(h/t Core77.)