China Economy May Be Big, but Google Dwarfs Its Top Internet Company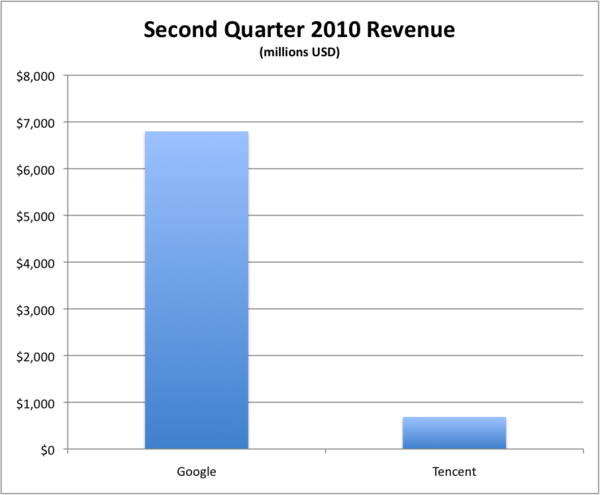 The world crossed an inflection point today. China's economy surpassed Japan's as the second largest on the globe. Both remain about one-third the size of the American economy.
But in a country of more than 1.3 billion people, the raw GDP numbers can make China seem misleadingly wealthy. Let's take a look at how the largest U.S. Internet company, Google, stacks up against the top Chinese corporation in the space, Tencent.
Both were founded in 1998, Google in Menlo Park, Tencent in Shenzhen. Tencent went public in June 2004 on the Hong Kong Stock Exchange. Google went public on NASDAQ in August 2004. While Google's growth was fueled by their strong search engine and attendant ad sales model, Tencent's business was -- and is -- built on QQ, an instant messaging service.
We all know how big Google is: the company runs one million datacenters and is the largest Internet company in the world with a market value of nearly $155 billion. They run a highly profitable business.
But Tencent is growing fast. The company released its second quarter earnings report [pdf] last week and the communique for investors is packed with evidence of the stunning scale that QQ has achieved in the Chinese Internet.
More than one billion QQ accounts have been registered, and Tencent counts more than 612.5 million of them as active. At peak times, more than 60 million people are using the service concurrently.
The social networking site that the company runs, QZone, now has 458.5 million active user accounts, nearly even with Facebook's vaunted half a billion users. Its casual game portal tops six million peak users, and Tencent has tens of millions of paying mobile subscribers.
Yet despite all these numbers, Google's revenue numbers still dwarf Tencent's. The American giant pulled in $6.8 billion, while China's top Internet company managed $687 million.
What's the importance of this order of magnitude difference? It shows that China is still a poor country, even though many Americans feel threatened by the speed of the country's growth.