Alan Klapmeier, the Kestrel, and Lane Wallace
I have been "intending" to write several aviation updates, leading with one that has both personal and business drama, but ...  it kept getting put off. Imagine then my gratitude to see that our Atlantic correspondent Lane Wallace has just done, for the Atlantic's business channel, a far more detailed and fully-rounded presentation of one important news item than I would have done.
Her story is about someone both she and I find to be a tremendously admirable and compelling figure. This is Alan Klapmeier, who with his brother Dale founded the Cirrus Design Corporation of Duluth, Minn., and absolutely transformed what had been a stagnant, declining industry. Theirs was a barely-known family business a dozen years ago. Now some 5,000 of their planes are in use all around the world are the market leaders in their category. This was part of the story I told in my book Free Flight. I agree absolutely with Lane Wallace when she says:

Along the way, Klapmeier also earned a reputation for being not only a passionate and talented visionary, but also a passionate man of his word who delivered what he promised, cared deeply about the quality and safety of his product, and would make it right, in the end. That's a rare find in any industry.

Here's the picture Lane Wallace took at the Oshkosh air show, of Alan (right) and his new business partner Adrian Norris, with their new airplane.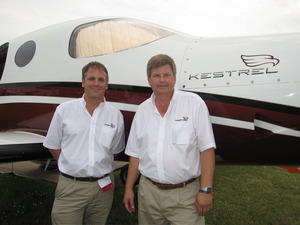 This is the kind of person who makes a mark in whatever field he enters. A Midwestern Steve Jobs (ie, nicer, politer, more right-wing in his politics, fonder of snowmobiles) is one way I have thought of him. Early last year I did
an item
about one of Alan Klapmeier's speeches on behalf of a new era of safer, more affordable air travel.
A great shock for the aviation world, and a huge trauma and tragedy for the little world of Duluth (where both still live), has been the bitter falling-out between Alan and his brother Dale over the past 18 months and Alan's forced departure from the company. Lane explains the circumstances and draws out the obvious Steve-Jobs-when-exiled-from-Apple parallel.
I wish well to all involved in this saga, but I am especially glad that Alan Klapmeier is back in the game. Whether or not you have the slightest interest in aviation -- most people don't -- this is a real story of innovation and leadership and entrepreneurship and resilience. I'll say more on this later, but I didn't want the moment to pass without a reminder of Lane Wallace's piece.