The Skyscraper with Wind Turbines Built-In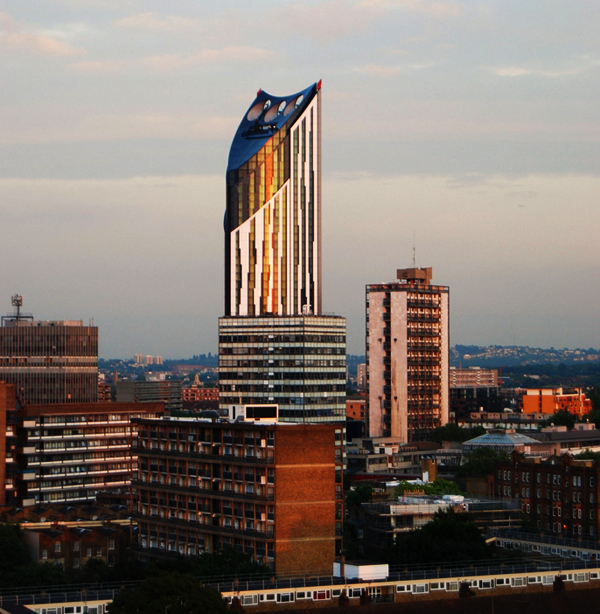 London's 43-story Strata Tower is a striking piece of architecture. Uncharitably dubbed the 'Electric Razor,' the building is the world's first to have built-in wind turbines.
Strata is the first building in the world to incorporate wind turbines into its structure," writes Guardian architecture critic Jonathan Glancey. "Yes, the new Bahrain World Trade Centre in Manama, by the firm Atkins, also boasts three giant turbines, but these are set on steel struts connecting its twin towers, not part of the actual towers themselves. While I can vouch for the strength of the south-westerlies that will turn Strata's blades, whether its turbines will set a precedent for future British towers is less clear: this rooftop was exceedingly hard to construct, almost prohibitively so, every part of it having to be hauled up."
It's easy to wax rhapsodic about the image they present in the sky. Glancey says the building feels like "an airship holding aloft the passenger cabins below," or maybe "more like an old-fashioned transatlantic liner."
What's fascinating about the huge turbines, aside from their looks, is how little of the building's power they will actually generate. If the wind machines work as expected, they'll make about eight percent (!) of the electricity needed to run the place. People may see them as a green emblem showing the bold solutions of a new era. But what they represent to me is the difficulty of the task facing the world as it tries to decarbonize its energy supply.
All the ingenuity involved in designing those turbines, building the components and hoisting them up there, and you don't even get 10 percent of the way there.
UPDATE: For some more (sobering) details, make sure to check out commenter Buckland's back-of-the-envelope calculations. Suffice to say: this is not how we're going to power a real, clean energy future. 

Image: iangallagher/flickr