The Psychology of Minimalist and Abstract Art
Ever wonder why you find some minimalist or abstract art so appealing? There could be some science to it.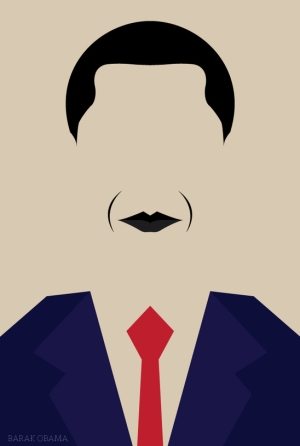 I just came across
this series
of
minimalist
reductive drawings of public figures by Ali Jabbar (that's Obama at right; h/t
Buzzfeed
). I found it oddly appealing, which reminded me of a psychological principle called "peak shift." The basic idea behind the principle is that animals sometimes respond more to an exaggerated stimulus than a normal one.
Take the now-famous seagull experiment. When a mother seagull brings her chicks food, the babies peck at her beak, which has a red dot on it. Chicks will peck just as much at both the disembodied head of a mother -- creepy, I know -- or even a popsicle stick with a red dot on it.
But it gets even weirder, as V.S. Ramachandran, a neuroscientist, and William Hirstein, who specializes in the philosophy of the mind, explained in a popular 1999 paper titled "The Science of Art:"
[A] very long, thin brown stick, with three red stripes at the end is even more effective in eliciting pecks than the original beak, even though it looks nothing like a beak to a human observer.

The gull's form recognition areas are obviously wired-up in such a way that Tinbergen had inadvertently produced a super stimulus, or a caricature in 'beak space' (e.g. the neurons in the gull's brain might embody the rule 'more red contour the better'). Indeed, if there were an art gallery in the world of the seagull, this 'super beak' would qualify as a great work of art--a Picasso.

That last part is obviously an extrapolation, but the finding is still bizarre. There are other examples of peak shift, too. A rat that is conditioned to respond to a rectangle, but not a square -- by getting food when the former is presented -- will have a more vigorous response to a rectangle that is longer and skinnier than the original. The more exaggerated the rectangle, the better. Ramachandran argues that this is what artists and caricaturists often do: find the essence of what they want to depict, magnify it and throw out the rest.
Of course this isn't a definitive explanation of the appeal of art, but it does offer a new way of thinking about our reaction to it: essence may matter more than intricacy.