The Interrobang, Symbol of WTF Culture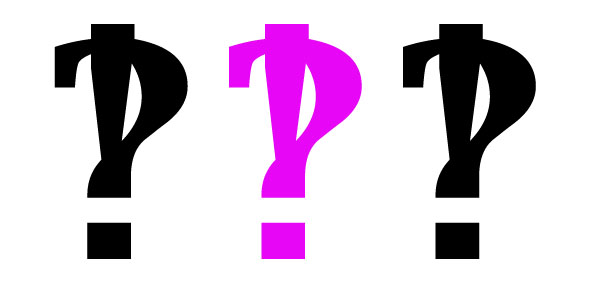 Meet the interrobang. Unless you happen to be a typographic expert, you probably haven't encountered the hybrid question mark-exclamation point. It was actually
invented in the early 1960s by ad exec Martin Speckter
but as language researcher Anne Trubek suggested last year, it just might be
the symbol of our times
.

I discovered the interrobang, and I have been thinking about it all week. And no, not because I am a grammar nerd, but because I think [the interrobang] may just sum up something about our clever yet confused culture...

Might we describe our current cultural zeitgeist as surprise superimposed over curiosity,  mixed together with attitude? Is the interrobang a 1960s, type-based version of WTF?  Is the interrobang a 1960s, type-based version of WTF?  A certain informal, witty, knowing, WTF way of approaching the world? Many clever Facebook status updates and comments could be defined, as Wikipedia does the interrobang, as "A sentence ending with an interrobang (1) asks a question in an excited manner, (2) expresses excitement or disbelief in the form of a question, or (3) asks a rhetorical question."
By now, I assume that you're sold on using the interrobang in your next Powerpoint (or getting it as your next tattoo), so you should know how to find it. If you've got Microsoft Word, it's hiding in the Wingdings 2 font. Hit shift+6 and you'll see the zeitgeist mark appear.
One last thought on the interrobang: does anyone know how I could search for a piece of punctuation like this? Google says it ignores most punctuation, and I'm assuming Microsoft works the same way. I think most OCR systems do filter out non-standard punctuation.
Case in point: This is a screen capture from the
New York Times
online obituary of Speckter. The interrobang has been erased from the obituary of its inventor.

Via
@Electric_Lit