The 5 Keys to Tumblr for Media Outlets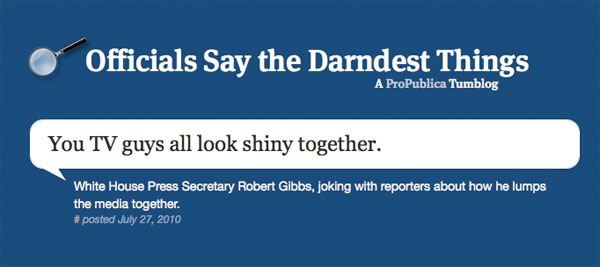 General awareness of the blogging platform Tumblr is rising out there among the Internet masses. Founded in New York, the service's well-designed templates, ease-of-use, and excellent browser bookmarklet made it a favorite for people looking for something more than Twitter but less than a blog.
But for tech-savvy media outlets, it has not been exactly clear *what* to use Tumblr for. The most successful effort (in my humble opinion) was created by former Newsweek employee Mark Coatney, who then promptly got hired by Tumblr itself. (The New Yorker tumblr is a solid runner up.)
So, leave it to ProPublica, an old-school investigative journalism non-profit to come up with the best use of Tumblr I've seen yet. It launched Officials Say the Darndest Things today, which presents funny or telling quotes by public figures. Here's a selection:
Obama on his iPod: "I've got Jay-Z on there. I've got Frank Sinatra on there. I've got Maria Callas on there... I do not have Justin Bieber on there."
Press Secretary Robert Gibbs on the White House reporters: "You TV guys all look shiny together."
Former BP chief Tony Hayward: "I became a villain for doing the right thing."
What ProPublica has done here is special. I think they are showing media companies how Tumblr should be done. Here are the five things that make it great:
It's not duplicative. This Tumblr is not what ProPublica does, but it is what ProPublica is. Their primary business is long-form journalism, but they are (more generally) watchdogs of the powerful. Their Tumblr fits in beautifully with their mission.
It's native to the platform. The best Tumblrs are focused and immediately graspable, even if they are silly, like windbreakernoshirt.tumblr.com. Officials Say the Darndest Things feels like something some random user would just do, but that ProPublica might do best.

It's low-effort. All they have to do is post a few quotes collected from around the office each day. It's practically a collective bulletin board.
It's interactive. Users can submit their own quotes, which also reduces the amount of effort required to run the site if it gains traction.
It's viral. The quotes are short and telling, made for easy reblogging Once they hit the Tumblr ecosystem's important nodes, I have no doubt they'll diffuse quickly through the system.
Who else is doing a good job? I'd love to hear about other media outfits who've figured out how to execute on the platform. For now, hats off to the non-profit. Thanks for showing us how it's done.
Update: My apologies to Press Secretary Gibbs for initially tagging him Joe. Childhood Redskins fandom reared its ugly head.