May Your Windows 95 Icons Never Be Forgotten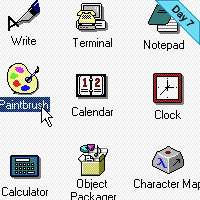 Remember the 1992 Windows Paintbrush palette icon? Probably not. Since then, new versions of the operating system have not only changed the underlying mechanics of the software, but the visual design, too.
Icons that were once (ahem) iconic disappear forever from our daily lives -- and even if they were kind of ugly -- we miss them anyway. To remind us of icons passed, psd tuts+ has put together a thorough history of computing iconography. The post goes through Xerox, Mac, and Windows user interfaces, discussing fonts, designs, and layouts, including generous screen captures. It's a particularly nerdy trip down memory lane.

As with great works of art, you must look into the past to appreciate the future. With roots as far back as the 1970′s, the humble icon has come a long way. Following is a collection of icons though history. Although there have been many other operating systems in the time between 1981 - 2010.
Read the full story at pds tuts+.