IPCC Chief Says Grassroots Must Lead on Climate Action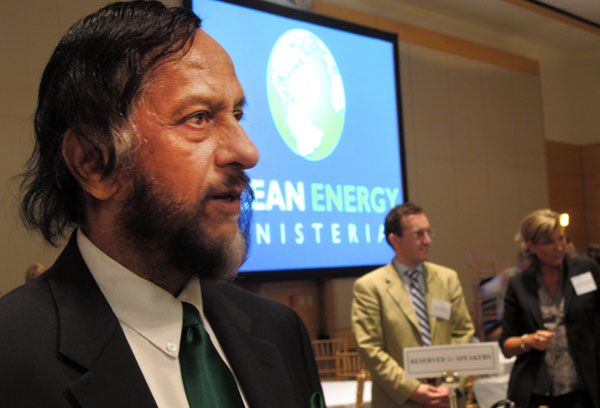 Rajendra Pachauri, the occasionally controversial head of the Intergovernmental Panel on Climate Change said that climate action would have to bubble up from the bottom, rather than coming down from on high.

"I really think the time has come for us to build from bottom to top. There is enough initiative in different countries that all this will bubble up and perhaps lead to an accord," Pachauri told The Atlantic during a break at the Clean Energy Ministerial meeting convened by the Department of Energy. "I think the drive really has to come from communities, from the grassroots level, and the public at large."
To Pachauri's detractors, his comments may come as a surprise. The organization he heads is, in some ways, the ultimate instantiation of a trained scientific elite. The world's best climate scientists all work together to synthesize the many fields related to climate science (oceanography, atmospheric chemistry, etc) into reports and projections on what's likely to happen if the amount of CO2 in the atmosphere continues to rise.

The group's 2007 report unequivocally stated that climate change was happening and that it was largely due to anthropogenic sources. Some saw it as a tipping point that could lead to climate action on the national and international levels. Last year, Pachauri and other scientists pushed for a more ambitious decarbonization of the economy.

But no international accord has come together, and climate legislation remains stalled in Congress. Maybe that's why Pachauri is sounding the grassroots note: twisting the arms of national leaders just hasn't worked.

Image: Alexis Madrigal/The Atlantic