In Memoriam: The Charming Mundanity of Twitter's Oldest User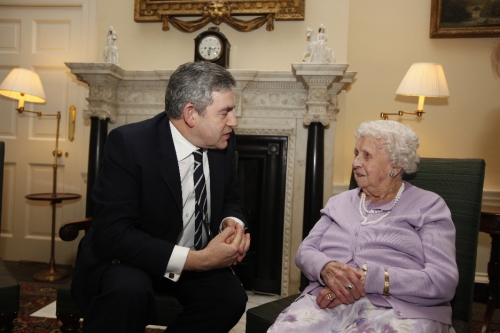 Ivy Bean, the 104-year-old who has been described as the oldest Twitter user in Britain and the world, passed away peacefully at 12:08 am today, according to her Twitter status and British news reports.
The authenticity of Bean's account was almost immediately called into question after she signed up in May, 2009. (It is, admittedly, a little curious that the age at which she died was also, from the start, a part of her user name, IvyBean104.) But while she no doubt received some help along the way, it seems that the account was genuine, at least if we're to trust the BBC and The Guardian.
What stands out from Bean's tweeting history isn't that it's surprisingly tech-savvy, but that it's so ordinary. Recent research shows that people's online profiles are surprisingly accurate representations of themselves, and Bean, well, she was a great-grandmother. She shared photos of her progeny and talked about the weather.
Here are a few tweets from earlier this year:
March 02: i used the prime ministers private toilet in his study too
March 04: Hello every one, are you enjoying the sunshine today?
March 05: time for a cup of tea and biscuit i think
March 11: im very well, it seems the weather is finally getting better, the sun has been out today, its been nice
March 26: hello every one what a lovely day it is today are you all enjoying the weather?
March 26: http://twitpic.com/1b143u - my great grandaughter Gabrielle
May 04: My great grand daughter Cara http://twitpic.com/1kz1jr
May 24: liza if the staff make me drink any more i will be floating they are now tempting us with ice cream its smashing
The above photograph of Ivy and former British Prime Minister Gordon Brown was taken from Ivy's TwitPic page.