BP's Offshore Oil Strike, the Board Game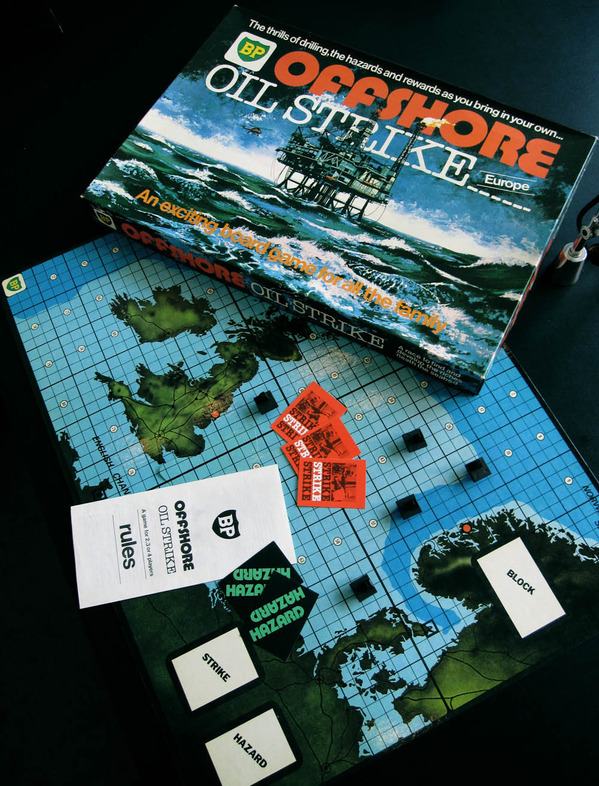 Time was, offshore drilling was just a subject area for board games.
BLDGBLOG's Geoff Manaugh, blogger-in-residence at the Canadian Center for Architecture, combed through a collection of oil-themed exploration games from CCA's archives.In among Total Depth: An Oil Man's Game and La Conquête du Pétrole, he found a salient and sad reminder that every oil company has long known drilling for oil in the ocean was a hazardous venture.
Offshore Oil Strike, presented by the Scottish company Printbox in partnership with British Petroleum in 1970 offers you, so the box claims, "the thrills of drilling, the hazards and rewards" of offhsore activity. The point of the game is to be the first to win $120 million "offshore petro-dollars."
Accumulating this fortune, however, is not without its difficulties. Each player has "Hazard" cards to deal with; here are some of the risks BP included: --"Accident. Rig shuts down while replacement of key personnel takes place. Miss one turn." --"Fire breaks out. Pay $2,500,000 for repairs." --"Hit High-Pressure Gas--Rig Damaged. Specialists called in." --"Blow-Out! Rig Damaged. Repairs cost $2,000,000" --"Drill pipe breaks. Pay $500,000 for replacement." --"Strike High Pressure Gas. Platform Destroyed." --"Blow-Out! Rig Damaged. Oil Slick Clean-Up costs. Pay $1,000,000."
More than old newspaper reportage or government studies, sometimes it's our throwaway cultural artifacts that best embed our hopes and fears about technology.