Best Tweet Gets a Job: One Ad Exec's Crazy Hiring Plan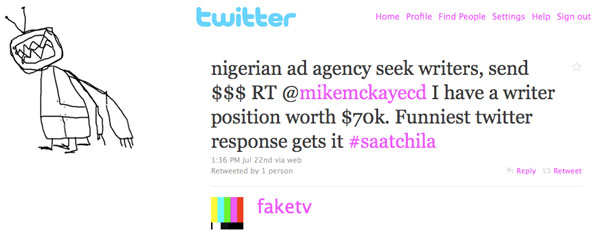 It was just an average day on Twitter last week until I saw this Tweet: "@mikemckayecd: I have a writer position worth $70k. Funniest twitter response gets it."

Two questions sprang to mind: Who was this guy -- and was he serious? Turns out he's Mike McKay, executive creative director of Saatchi and Saatchi LA, an arm of one of the world's larger advertising firms, and yes, he's serious.
"It's really hard to find good writers. I don't know why," McKay told me. "It's even harder to find people to write dialogue. It's even harder to find funny writers."
And funny, viral writers like the geniuses who scripted the Old Spice man's recent viral videos? Forget about it. "It's much easier to write long form," McKay said. "It's much harder to get someone interested in something in 140 characters."
This won't be the first time a tweet landed someone a job. It's not even quite unprecedented at Saatchi. The London office encouraged would-be interns to compete in a Facebook group challenge in which they battled to get the most members. But one tweet for a coveted advertising writing job? That's nuts even by Saatchi standards.
"I was like, 'Fuck it, I'm going to try it,'" McKay explained. "Immediately I get HR coming up and saying, 'What did you just do?'"
As it turns out, most of the good replies have come from people within the advertising industry. They have "books," portfolios of work from other agencies, and they've got some talent.
"I was thinking, maybe we'll get idiots and we'll be stuck: I'll have to hire one of these guys," he said. "But we got great writers."
Or so he claims. Here are his 17 finalists. McKay expects to pick someone by midweek with the help of this poll, so let him hear you in the comments or on Twitter if you like one in particular.