Alaska Company Plans to Ship Small Town's Extra Water to India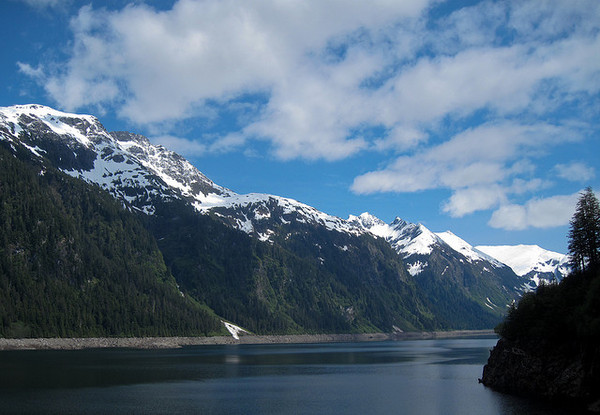 A tiny company has a big plan to ship billions of gallons of water from Sitka, a town of 8,500 located on Baranof Island off the southeast coast of Alaska, to a port south of Mumbai on India's west coast.
Alaska Resource Management was formed by
S2C Global Systems
 and
True Alaska Bottling
, which holds the right to 2.9 billion gallons a year of water from Sitka's Blue Lake Reservoir for a penny per gallon.
An S2C press release
claims that the joint partnership will be distributing water in India within six to eight months. The water will move from Blue Lake Reservoir through an already-complete pipeline to the True Alaska facility in Sitka. From there, it will be loaded onto Suezmax vessels capable of holding 41 million gallons of liquids. After being transloaded into holding tanks, the water will be distributed in office-cooler sized bottles.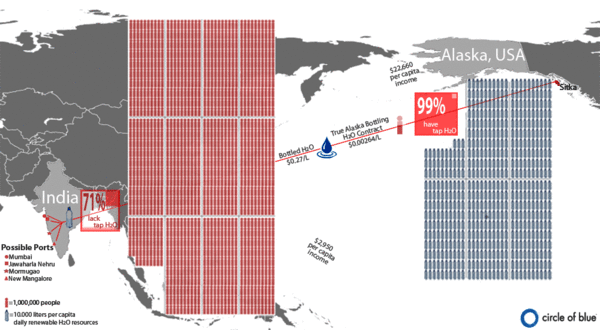 If it comes to fruition, the business will fulfill the prognostications of some water experts that H20 will be globally traded like another valuable liquid, crude.
"Like so many other commodities, water is going global. A number of recent news articles have described water as "blue gold" and the "the oil of the 21st Century". Entrepreneurs are responding to supply and demand imbalance by seeking ways to transport water from countries and regions with plentiful amounts to areas in short supply," wrote Terry Anderson and Clay Landry of what is now known as the
Property and Environment Research Center
 way back
in 1999
. "John Hayward, a water expert for the World Bank, commented that 'water will be moved around the world as oil is now.'"
But the bulk water export market has yet to come together. Shipping water has not proven to be a big moneymaker, and there are substantial upfront costs in shipping a relatively low-value liquid. Circle of Blue's Brett Walton summarized the problems with similar schemes nicely: "Past attempts have been thwarted by daunting logistics, concerns about natural resource sovereignty and commodification as well as the availability of cheaper local sources."
There are other reasons to be skeptical of this particular attempt, too. S2C Global, despite its name, is a penny stock that's bounced from business to business.
"We were formed as a Nevada corporation on March 19, 2001; originally under the name of Sun Vacation Club, Inc.; on November 21, 2002 the name was changed to United Athletes, Inc." the company wrote in 
its most recent annual report to the SEC
. "On February 8, 2005, after a reverse merger with S2C Global Systems, Inc. (a private British Columbia, Canada corporation) we changed our name to S2C Global Systems, Inc. with the intent to focus on developing, marketing, and distributing "supplier to consumer" technologies related to water that reduced the cost and carbon footprint of water distribution." S2C admits that "to date the company has little or no revenues."
Whether or not this particular deal for bulk water export yields results, it's worth keeping an eye on this space. The consequences of a world in which water was as mobile as oil could be large.
"Proposals to export water supplies out of their natural basins have sparked fierce political resistance in some parts of the globe. The Great Lakes region of the U.S. Midwest established laws and regulations over the last decade that sought to ban the practice,"
wrote Circle of Blue's Walton
. "Moreover, reliance on imports could perpetuate water-wasting practices in dry regions. And the capacity of wealthier regions to afford their water in five-liter containers could widen the economic and quality of life gulf between rich and poor countries."
Images: 1. Sitka's Blue Lake Reservoir. Credit: thedamian/flickr 2. Alaska Resource Management's plan. Credit: Aubrey Parker/Circle of Blue