1924 Chinese Cartoon: The Perils of Modern Life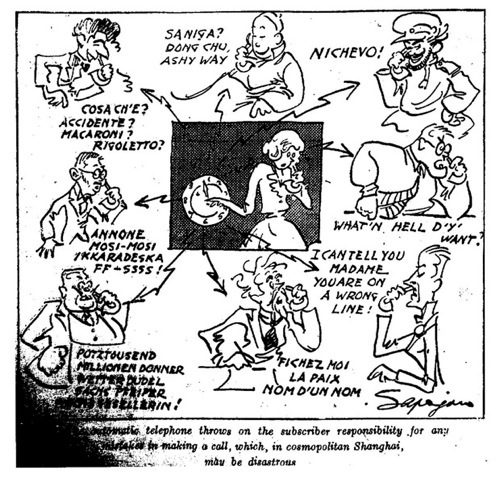 'The Automatic Telephone Throws on the Subscriber Responsibility for Any Mistakes in Making a Call, Which, in Cosmopolitan Shanghai, May Be Disastrous'. Source: North China Daily News, 7 April 1924.

This light-hearted cartoon about the perils of technology is drawn from a much more substantial article in China Heritage Quarterly about the artistry of Sapajou, the pen name of Georgii Avksent'ievich Sapojnikoff, a Russian army officer turned refugee in Shanghai.
He drew for the North-China Daily News, which the paper's author Richard Rigby describes as "probably the most important and prestigious English language newspaper in the Far East" during this time before World War II.
Sapajou's work is great, and a fun way to delve into the complex social history of Shanghai. And, as you can see, there's even a few hints about the impact of tech on the city.
Via Danwei