Excellent Interactive Oil-Spill Map
Via the federal government's Environmental Response Management Application, from NOAA, a powerful interactive map that lets you add and subtract layers to show areas closed to fisheries, beaches where oil has hit and is expected, emergency-response centers, satellite images of the spill, visible slicks, etc. You can zoom in and out and pan the map all around.
If you zoom in, you can get very detailed images -- for instance this of the coast and delta region east of New Orleans.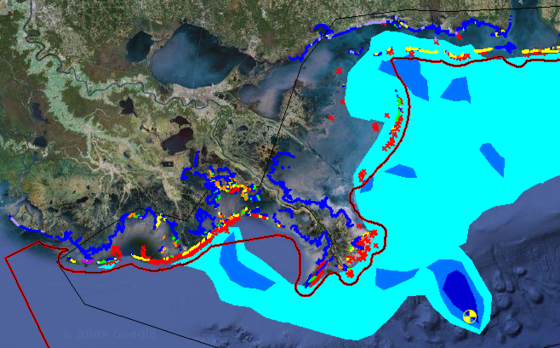 The occasion for this display is unbelievably depressing, but the imagery and presentation demonstrate a "Gov 2.0" approach to interactive use of geospatial imagery at its best. The map seems sufficiently detailed and configurable to be of real practical value to people in the region. Thanks to SSS and reader WRM in Louisiana.