The Green Salon: Water and Life
An insider's account of an informal meeting of people and organizations dedicated to improving the environment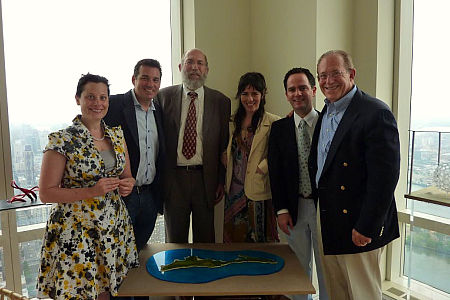 From left to right: Mara Haseltine, David Sklar, Scott Sklar, Nora Maccoby-Hathaway, Richard Marks, William Haseltine
Last Sunday, the Green Salon convened in my New York apartment. The Salon is an informal group of people deeply committed to implementing social and political change to improve the environment. Over the past several years, the Salon met in my home in Georgetown to discuss a variety issues including alternative energy and environmentally friendly ways to convert trash to energy. The Swedish Embassy in Washington and the Green Salon jointly hosted "Blue Salon" to discuss the fate of our planet's oceans and fresh water.  Water again was the topic of the Salon on Sunday, inspired in part by the current disaster in the Gulf of Mexico. The New York Salon was organized by Nora Maccoby-Hathaway, Mara Haseltine (my daughter) and Richard Marks, the same three who organized the Washington meetings. The salon was co-hosted by the New York Academy of Sciences. The Waterkeeper Alliance, the Agnes B Tara Oceans Project, the Stella Group, STAR ISLAND, the Stella Group, and Urban Assembly, New York Harbor School were also represented.
The Salon, meeting as it does over an informal Sunday brunch, encourages dialogue. Short verbal presentations (Powerpoint is not allowed) are followed by Q&A.
Scott Sklar, Director of Stella Group, opened the discussion by commenting that energy use is the the primary cause of pollution of our water, land, and air. Scott has a long history of environmental activism. He currently serves as chair of the steering committee of the Sustainable Energy Coalition and as a director of the Sustainable Buildings Industry Council.
Scott said, "Energy is the single largest contributor of air and water pollution as well as climate change. Energy costs are the single largest contributor to the US balance of payment deficit. US citizens are the largest energy consumers. We comprise only 3% of the world's population yet consume 25% of the world's energy. Despite obvious disadvantages, the US government still maintains elaborate oil, gas and coal subsidizes".
Scott argued that we can substantially reduce our dependence on fossil fuels by using existing technologies both to conserve and produce energy. His group, Stella Research, reviewed reports from 32 different organizations that looked at the US and world energy future. One study sponsored jointly by Greenpeace and the European Renewable Energy Council estimates that "renewable energy (wind, biomass, solar, geothermal, water) could provide all global energy needs by 2090." A US group believes that we could meet the requirements for reduction in carbon emissions by 2030 given a 57% increase in energy efficiency and a 43% substitution of renewable energy for fossil fuels. A Google sponsored study reports that the US could reduce energy demand by two-thirds by 2030 and reduce carbon emissions by almost 50%. The plan calls for extensive use of alternative energy. It is estimated to cost $4.4 trillion but re-coup $5.4 million. He cited a National Research Council Renewables report issued in June 2009 in saying that by 2060 we can reduce our energy consumption by 80%, allowing the US to become energy self-sufficient.
He offered his own solution, a mixture of energy conservation measures and replacement of fossil fuels by renewable energy sources. His preferred mix:
20% Biomass power
20% Wind energy
15% Solar (Concentrated Solar)
15% Solar (Distributed Photovoltaic)
12% Energy saving from improved building standards
10% Geothermal
10% Water Energy
8%  Recovery of waste heat
Notable is the absence of nuclear power sources, which he considers too dangerous to use. When asked, he cited the failure of current nuclear plants to meet existing safety standards.
Scott and Nora Maccoby participate in a Department of Defense Energy Consensus think tank. Scott noted that 80% of casualties in the current theater of war result from moving oil. Renewable energy is a security advantage enabling independence on many levels. He  presented lightweight solar materials -- backpacks, blankets -- that are currently being used by the military to reduce the weight of soldiers backpacks by half.
Scott closed with a plea for each of us to think about how we can individually conserve energy. We can use LED bulbs, we can equip our homes with solar voltaics and heat pumps, we can build using new energy conservation standards, we can drive electric cars, and we can reduce water use. A guide of the top ten things we should do in our homes or offices to save energy is available on The Stella Group website.
The next speaker was David Sklar (unrelated to Scott), who spoke about the Star Island Development project.
Model of Star Island
Star Island will be developed as a 35 acre carbon neutral resort community in the Bahamas. A mix of solar, wind, hydro, and biofuel will power the island. Each of the 70 structures on the Island will be energy independent yet linked through a sophisticated grid. Each building will be designed to collect and store rainwater. Excess power will be used to provide additional water by desalinization.
David believes that the advances made on Star Island can be replicated throughout the world.  Communities can combine the green building practices, the latest clean energy technologies, innovative design, and environmentally conscious resource management to build their own zero net-energy towns and cities. He plans to finance the resort on a strictly cash basis to avoid conflicting interests of builders and lenders. Visit his website to learn more. He closed by saying that if we learn to use the Earth's resources and technology, we can live sustainably and comfortably in harmony with nature.
Mara Haseltine, currently teaching a course on Art and Geotherapy at The New School, is both a sculptor and an environmentalist. She has been partnering with the NY/NJ Baykeepers and acting as a member and representative for "The Global Coral Reef Alliance" here in NYC in an effort to create a holistic alternative for reef restoration. She believes in "partnering with life forms to help us improve our environment." "As an artist I have searched for a way to be a functional part of society, not a social commentator or note taker. I want my art to make a positive contribution to the environment in a fully functional way," she explained.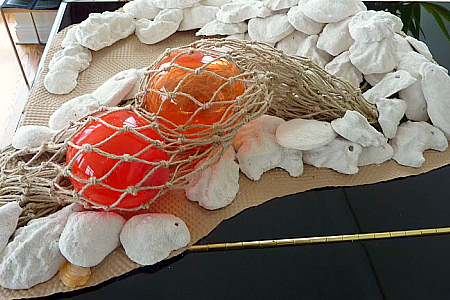 Model of oyster installation
In 2006, Mara created the first solar powered oyster reef in New York City in College Point, Queens. She illustrated her remarks with models of her sculptures that are both active and aesthetic. One is of an undersea sculpture that serves as a support for an oyster bed, meant to be deployed in New York Harbor. The form is derived from that of an oyster gill, a design that maximizes water flow over the surface. Once submerged, a mild electric current will induce the accretion of calcium carbonate, an excellent substrate for oyster attachment and growth. Each sculpture will contribute to cleaning the waterways. One oyster can filter up to 30 gallons of water a day. When Henry Hudson first arrived in to Manhattan, there were 350 miles of oyster reefs here which filtered all of the water coming in and out of the harbor in a matter of days, created a natural self repairing beach break and creates habitat for over 200 forms of aquatic life. Other sculptures will raise awareness of our dependence on microorganisms in the sea, such a phytoplankton and diatoms that provide half of our oxygen and remove the majority of carbon from the atmosphere. Mara is working with the Tara Oceans Project to create sculptures that "reveal the essential beauty and importance to all life of these organisms."
Mara quoted extensively from "The Declaration for Geotherapy and Global Bioethics," first announced at a 1991 Conference held in Lyons, France.
This declaration states:
1. Accelerating environmental degradation threatens the habitability of the biosphere. We believe that corrective action is possible and urgent.
2. Our goal is long-term survival in an acceptably maintained global ecosystem
3. We as human beings need to take full responsibility for our actions by not sacrificing natural resources for short-term gain and by making the world a better living place.
4. This choice will influence our future biological and cultural evolution; we cannot avoid it without grave consequences.
5. A Global Bioethic should further be developed to guide and motivate geotherapy and our cultural evolution.
6. A root problem is excessive demographic growth; the Earth's carrying capacity is being exceeded with the present patterns of development.
7. We declare that all scientists, homo sapiens of all walks of life and disciplines, should adopt the aforementioned goals and participate in meetings at all levels to apply these principals.
Mara closed announcing her intention to create "The Geotherapy Institute," whose mission is to create interdisciplinary teams of undergraduate college students with professionals to treat environmental ills on a global scale. Her goal is to pair the brightest undergraduate students with scientists, artists, and technicians and teach them to act as an interdisciplinary team to solve real world problems. Her goal is to have the first class or Geotherapy workshop on STAR Island on the subject of holistic reef restoration in January 2011.
Richard Marks, the next speaker, specializes in energy, education, and environmental issue. Currently, he consults for the US Department of Energy's Office of Energy Efficiency and Renewable Energy
He arranged for two high school students to make presentations at the Salon. He began with two water readings "Book of Runes," cleansing rituals that can be performed whenever your body comes into contact with water.
I cleanse myself of all selfishness,

Resentment

Critical feelings for my fellow beings,

Self-condemnation,

And misinterpretation of my life experiences.

I bathe myself in generosity, appreciation,

Praise and gratitude for my fellow beings,

Self-acceptance, and enlightened understanding of my life experiences.

Max Liebeskind, a freshman at Stuyvesant High School in New York, spoke about his class and his own studies of the Bronx River, once a source of crystal clear drinking water, now foully polluted. He and his fellow high school students are learning how to test water quality. They are also helping to restore the water ways by planting shoreline grasses that filter the water and provide habitats for small fish and 200 other species.
Max also described the Clearwater Project founded by Pete Seeger. The Clearwater is a sloop the sails the Hudson, providing an opportunity for high school students to learn firsthand both about the reality and dangers of water pollution and what they can do to help. Students from Max's high school also build wooden boats similar to those that were used to transport goods to and from sailing ships at anchor in the harbor. This experience gives the students first hand contact with the New York waterways.
Max was followed by Janique Moore a senior at the Urban Assembly New York Harbor School. Janique is an intern with the Harbor School's oyster restoration program on Governor's Island. The Harbor School is partnering with NY/NJ Baykeepers to create oyster reefs on the most massive scale yet in New York City which were once plentiful in New York's estuaries. She spoke of her growing awareness of the hazards of polluted water. She has learned that she and her classmates can make a difference to improved water quality. Her experience helps her to educate and involve her fellow classmates. She was accompanied by her teacher Peter Malinowski a second generation  New York oysterman. The Harbor School is working with the New York and New Jersey Baykeepers to restore the oyster reefs of New York waterways.
Mike Sieracki is a Senior Research Scientist at the Bigelow Laboratory for Ocean Sciences in Booth Bay Maine. He is a phytoplankton specialist. He recently joined the Tara Oceans Projects and served as Chief Scientist on board the Tara. The Tara Oceans Project seeks to understand the diversity and importance of marine photosynthetic microorganisms and the effect of environmental change on this important life form. "We know precious little about these species despite their enormous importance to our well being," he told us. He likened the voyage of the Tara to the early days of exploration of the tropics. "The sea is filled with an abundance of life forms we know very little of," he said.
Mike's immediate contribution to the project to Tara Oceans is deployment of a new type of microscope that allows individual organisms to be identified and sorted rapidly. He showed us images of the amazing diversity of species in a single drop of sea water. He plans to determine the entire genome sequence of individual cells. Previously, marine microorganisms were studied in bulk, making it difficult to understand each individual species. Tara will sail all the seas, collecting specimens over the next three years. Tara will dock in New York the summer of 2012.
Kristine Stratton
The Salon closed with a presentation by Kristine Stratton, executive director of the Waterkeeper Alliance. The Alliance is a national organization that works to ensure that the world's waterways are clean, safe, and healthy for the communities and wildlife that depend on them. They serve to coordinate the activities of more than 190 water and riverkeeper organizations worldwide.
The first Waterkeeper was established to protect and preserve the Hudson River watershed. Citizen and community advocacy is their primary tool to ensure the safety and cleanliness of our water. The Alliance has filed and won hundreds of suits against polluters. Those who pollute the water are identified and held to account by citizens and the courts.
Kristine reminded us of the provisions of the Clean Water Act of 1972, passed after an underwater oil spill in the Santa Barbara channel off the California coast. The act calls for communities to restore and maintain "the chemical, physical and biological integrity of the Nation's water." "Clearly our work is not done", she said.
The latest example is the current oil leak in the Gulf of Mexico. To fulfill the terms of the Clean Water Act, we should empower citizens and educate the public to demand solutions
To respond to the oil leak, Waterkeepers have engaged groups along the Gulf coast from Galveston to Florida. "We now have a pollution hot line that handles tens of thousands of calls a day. People ask: What can I do concretely?," she explained. Waterkeepers are working with local groups to see how best to channel the energies. "We are testing, sampling, and documenting the shoreline before during and after the oil comes ashore." For more information, visit their website. "This work will help us understand the long term impact of the oil leak. We also work with the poor. They have the most to lose and deserve a voice in decisions that will affect their lives," said Kristine.
She went on, "We also work with Congress to pass new and effective legislation. We are disappointed with the pending energy bill. It doesn't go far enough. The bar is set embarrassingly low. We should demand that Congress pass meaningful legislation, a trajectory that will wean us from fossil fuels altogether."
Photos courtesy of William Haseltine