Makeup to Be Surveilled In
With surveillance cameras seemingly everywhere in cities like New York and London, lights and makeup may be the key to keeping Big Brother at bay.
Civil liberties advocates have decried the prevalence of CCTV cameras. But instead of filing lawsuits, objectors -- as well as those who have more nefarious reasons not to be recognized -- may soon have a few creative options at their disposal.
Noisebridge, an art and technology non-profit in San Francisco, is accepting submissions for its upcoming anti-surveillance fashion show, which will take place in mid-May at the Maker Faire, a popular conference hosted by DIY publication Make Magazine. As the Make blog post on the fashion show points out, people are already experimenting with some accessories.
One example is wearing infrared LED lights, which are invisible to the human eye but blind closed-circuit cameras. As the video below shows, this is easier said than done.
Adam Harvey, a master's student at NYU's Interactive Telecommunications Program, has a similar goal. Last month, he posted a widely linked-to explanation of his thesis project on how facial recognition software could be stymied by jarring, asymmetrical makeup patterns that look like something out of a 1970s David Bowie album cover. (Some Japanese researchers are looking into something similar.)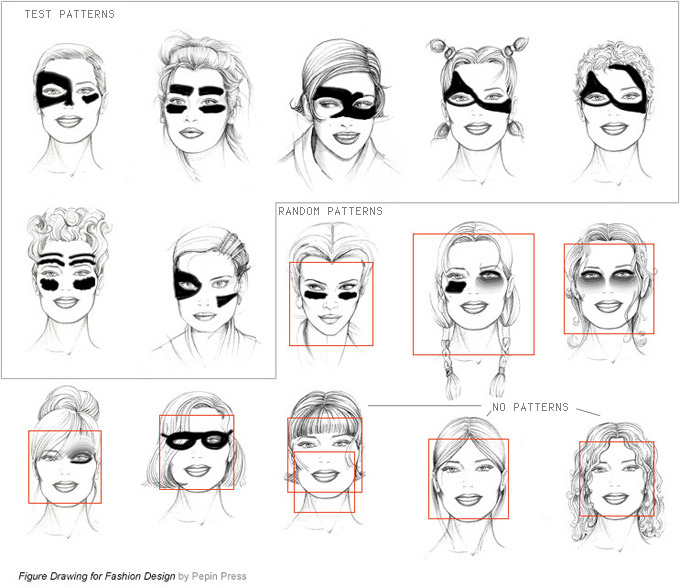 Harvey's hopes to uncover something practical:
What will these forms look like and how well will they integrate into our cultural expectations of body decoration while still being able to function as face detection blocking devices? How can hats, sunglasses, makeup, earrings, necklaces or other accessories be modified to become functional and decorative?


Not to diminish these counter-surveillance measures in the making, but their creators may be overestimating the effectiveness of current CCTV technology. Britain has more surveillance cameras than any other European country, but they have not been shown to reduce crime or catch criminals.