Live Link to the European Air Traffic Monitor (updated)
As mentioned yesterday, the real-time link to FlightRadar24 is here, and it is full of interesting info. For example, here is how the skies over Europe looked as of 11am EDT on April 17 (click for much larger - but to be clear, this is a static shot of conditions as of twenty minutes ago):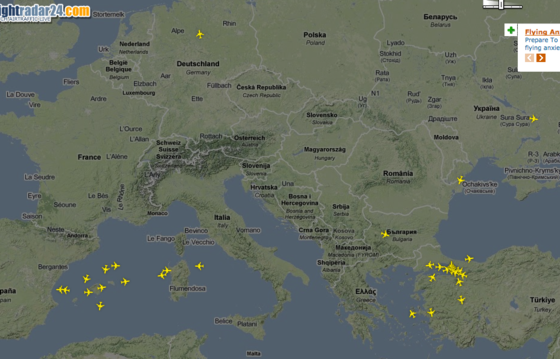 Some aspects of this drastically-reduced airline traffic are, by now, "expected." No planes at all over England, France, the Netherlands, Switzerland, even now Italy; usually there would be hundreds or thousands in the air at the same time. Still a good time to go to Istanbul! Of course, any time is a good time for a
visit there
.
And what's that plane over Germany? The system lets you click on any little airplane icon to get Air Traffic Control info about that flight. In this case it says:
BER669P
Callsign: BER669P
Flightnr:
Reg: D-AERQ
Hex: 3C5651
Model: Airbus A330-322 (A333)
Airline: Air Berlin
Lat:

52.75928

Lon:

10.48441

Alt:

12000

feet (

3658

m)
Speed: 368 knots
(682 km/h / 423 mph)
Track:

2

°
Radar:

EDDH
Is this some kind of anomalous or false-positive reading? (It happens. These tracks are based on readings from ADS-B transponders -- see
here
and
here
-- and conceivably there could be some phantom signal.) Or, special weather info that Air Berlin has obtained? I don't know and am not going to call Air Berlin to check. The interesting point is the availability of this real-world, real-time monitor of how the world's airline system is responding. If you watch the map it updates several times a minute, and you can see tracks of where the planes are heading. FYI.
UPDATED
: Well, now I know. Thanks to a friend in the news business, I see
this Reuters story:
German airline Lufthansa has safely transferred an empty long-haul airplane from Munich to Frankfurt, despite the airspace being closed for commercial flights by the volcanic ash cloud, an airline spokesman said.

He said the flight had arrived in Frankfurt at 1200 local time (1000 GMT) and was being examined for possible impact from the volcano ash.




It had travelled at an altitude of 9,000 feet (around 3,000 metres)....
That wouldn't be the same flight shown above -- the Lufthansa one was several hours earlier, the flight above is from Air Berlin -- but could well reflect the same logic. The Air Berlin flight is shown at 12,000 feet, which would be inexplicably and inefficiently low for an airliner unless there were some special reason, like the attempt to avoid exposure to ash. Thanks to MM.