Last Ash Update for a While
I don't know what the European aviation authorities will do tomorrow, but here are two interesting developments:
The British weather office is reporting "no significant ash above FL350." FL350, or Flight Level 350, is about 35,000 feet. (For another time: why it's not exactly 35,000 feet.) Not sure how they can be confident of this, but it's significant especially for planes flying over Europe en route some place else. The latest map, containing the altitude info. Click for larger.
Also, our old friend
FlightRadar24
is showing some airline flights in progress over Europe, at altitudes around FL350. For instance, a little while ago, this United flight en route from Dubai to Washington Dulles. (Click to see in detail.) That's the plane with the dark blue trail. The light blue crosses are airports. The other activity is, of course, centered on Istanbul.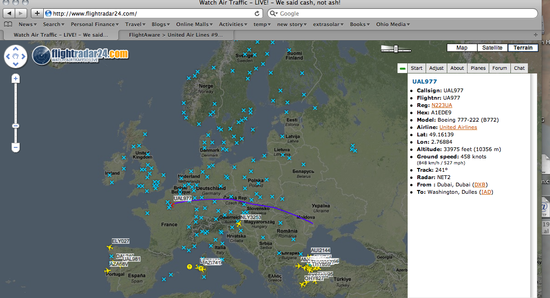 So, who knows what tomorrow brings. That's it on this topic from me for a while. Back to "real" work. Thanks to Krishna Kumar, watching these developments at the same time I was.