Finally, a Flying Device Too Wacky Even for Me
Out of Germany now comes.... the JetLev!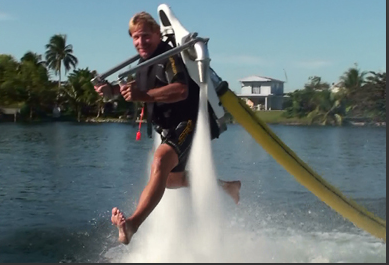 Just as I was surprised to
discover last month
that there was such a thing as a beer with too strong a hops taste, I now realize (courtesy of Sanjay Saigal) that there is such a thing as personal aviation that is a little too personal. You will not regret spending 67 seconds watching the JetLev
promotional video
, below. And perhaps like me you'll find yourself wondering as you watch, What would happen if my legs got in the way of the high-speed jets of water that are keeping the thing up? (The JetLev sucks in water through the trailing yellow hose, then blasts it out to shoot the rider into the sky.)
Main company site here; flight training instructions, plus list of "banned maneuvers," here. As the video shows, it's for men and women, young and old.  That's a young lady flyer below.  And when you're ready, buying instructions here. Let me know how it goes. This is Health Care Reform weekend, and I figure this has its own medical-care related theme.