Artificial Intelligence Fail: Google Maps, Visa/Amazon
"Big data" can do so much that it's natural to think it can do anything. Display a sentence translated into Chinese -- and written in Chinese characters -- after I speak a sentence in English into a mobile phone? No problem! I did that just this afternoon, with a Nexus One phone using the Google Translate app, as a stunt for a Chinese friend. ("Big data" underpinnings for this achievement: a huge enough corpus of spoken English phonemes to have an idea of which ones most likely matched the sound waves from my voice; and then a huge enough corpus of matched English/Chinese written material to provide a plausible Chinese version of my thoughts.)
Real-time traffic report from -- let's say, Beijing, right this minute? No problem, either -- confirming that northbound traffic on the East Third Ring Road, right outside our former home, is as jammed now as always. The emphatic black/red hashed line leading to the Guomao Bridge really brings it all back: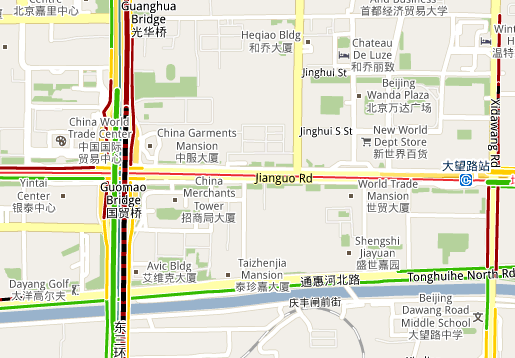 Perhaps more surprising, we can see, in real time, that downtown Chengdu is gridlocked too:

So what don't the world's computerized brains always know? Two illustrations in the past 24 hours, more or less trivial in themselves except for the surprise value that there should be any imperfection at all.
Case one: then generally-wonderful "Navigate" function in the Nexus One. During rush hour yesterday afternoon, it steered me toward an address in San Francisco via a route different from the one I usually take. I thought, maybe it knows best! So, confident in its judgment, I headed down a crowded Lombard street (right to left along the blue line below, on the route marked 101 / El Camino) until it began yelling at me "Turn LEFT on Fillmore Street." That's the left turn marked in blue below -- and as real-world drivers know, it's from a road whose every intersection says on a big sign "NO LEFT TURN 3PM - 7PM."
Some fancy if illegal U-turning eventually got me where I was going, but not before I wondered: This phone knows just where I am, within a few feet. It knows the exact time, within a split second. And it can't figure out when and where No Left Turn rules apply? It was like asking Steve Hawking to figure out a tip in a restaurant and noticing that he made a math mistake. He's still smart, but you'll be careful before asking him again.
Case two: Amazon/Visa. I have been spending a lamentably large amount of time at airports, including several early-morning dashes for the plane. Twice recently I've made it onto the plane without time to buy any newspapers. (Yes, out of loyalty, and because I find it a faster and better way to scan info, I like reading "real" newspapers.) In the always-enjoyable "waiting for the airplane to fill up" period, I fired up my Kindle and within seconds had bought that day's versions of the NYT, the WSJ, and the Washington Post for 75 cents apiece.
Off the plane, and on to the car rental site. "Sorry, sir, your credit card has been declined. Do you have another?" Huh? Next 20 minutes on the phone with Visa, only to learn: a sequence of 75-cent charges had been flagged as probable fraud.
Come on, guys. I can't be the first person to try to read newspapers on the Kindle. This isn't even the first time I've had this exact problem with small Kindle purchases. I don't know whether this seems more surprising on Amazon's part or on Visa's. Newspapers have enough problems without my worrying about getting my card revoked every time I try to buy one.