If you have been wondering about Tai Shan....
He's made it back "home" now -- well, if not his birth home of Washington DC, then at least his ancestral home, in Sichuan province in inland China. The latest newsletter from the highly-admirable Pandas International has this update on his arrival, including a number of en route photos of him like this: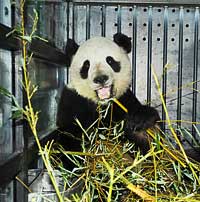 Plus this info about provisions for his care:

"Prior to his arrival he was adopted for life by the Sichuan Auto Industry Group for a million Yuan or about $150,000. This donation will help support Tai Shan with food, housing and medical care."

Tthe photo that really got my attention was this one, showing some of the panda-keepers waiting for Tai Shan's arrival: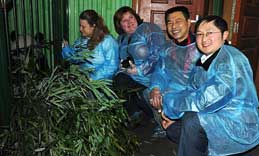 I'm pretty sure that the man second from the right is the same veterinarian Tang Chunxiang whom my wife and I spent time with in 2007 at the main panda reserve in Wolong, Sichuan province -- before the reserve was destroyed in the Sichuan earthquake of 2008.
Assuming it's him, I am very glad to see him looking so happy again, after the very difficult past 20 months. My story about Tang Chunxiang and the pandas is here; a slide show from Wolong is here. I will always remember the end of our visit when Tang summed up his 20 years in the mountains, in very carefully chosen English, this way: "The more I know the panda, the more I love the panda."