Hell Hath No Fury Like a Tech Blogger Without Porn
Last week, Apple removed sex-tinged applications from its App Store. When all was said and done, thousands of apps were removed and Apple had a blogospheric revolt on its hands. Why did Apple do it? Business reasons mostly. Why was this important? Because an army of tech bloggers said it was. And that gets us to the topic of this blog post. The Great Purge offered an amusing window into the values and priorities of the tech blogging establishment. First lesson: never, ever inhibit the Web community's right to access porn.
When news first broke, it was as if the sky had fallen. "Apple's War on Porn Is Just Beginning," alerted Nick Saint at Silicon Valley Insider. Others took stock of the surviving sex apps. "Apple has yet to yank... Epic Boobs, College Boobs, Adult Tennis Boobs and AwesomeBOOBS," wrote a breathless Aharon Etengoff. This was crisis journalism at its finest.
To understand how serious the tech world takes this issue, let's examine what they were defending. Here's a taste of the applications banned from the App Store last week:
Russian Brides Gallery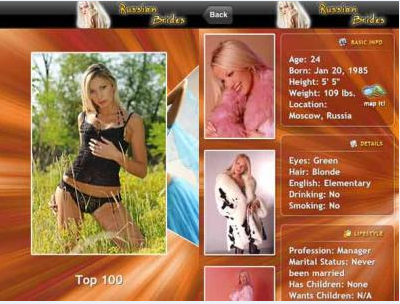 This lost treasure resembles a Russian mail-order bride service. It allows users to glide through profiles of scantily clad women who claim to hail from cities like St. Petersburg, Moscow, and Volgograd. Bizarre.
Adult Tennis Boobs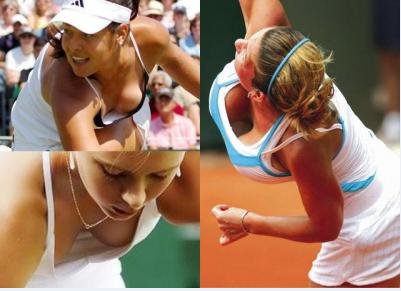 A collection of strategically shot women's tennis photos. Pretty self-explanatory
.

Dirty Fingers: Screen Wash

Truly a marvel of technology. When the user's "dirty fingers" touch the screen, a girl in her bikini scrubs away your fingerprints from the inside out. Technically, your iPhone isn't getting any cleaner--but it's the thought that counts.
As you might have noticed, none of these apps display any actual nudity. Apple has never allowed that. These "sexy" apps were always best suited for an iPhone user with the pornographic appetite of an 11-year-old. Furthermore, anyone who wants to view porn on Apple devices can simply surf the Web. So why were grown adults throwing a fit?
Basically, it's because there are two immutable beliefs among tech bloggers: freedom from censorship and equal treatment for the little guy. The first belief is admirable but in this case we're talking about inane apps like "Pocket Girlfriend" and "Truth or Dare." Get over it.
On the second point, the bloggers are right. Apple's ban caused hundreds of small-time developers to lose their sources of income. For awhile Apple made it seem like softcore apps were ok. Throwing salt in the wound, the company allowed major publishers such as Playboy and Sports Illustrated to keep their apps. When the New York Times challenged Apple's marketing chief on that point his answer was bogus.
"The difference is this is a well-known company with previously published material available broadly in a well-accepted format," he said.
Right. Just because a sampling of cleavage has the imprimatur of Playboy doesn't make it any less objectionable.
In the end, passions were overblown but not with out some legitimate grievances. Yes, developers got a raw deal but I'm sure they'll find other inroads for peddling women in bikinis.