About that "yoga mats for Haiti" sign....
In response to a large volume of wounded, testy, quizzical, or simply hurt responses to this post yesterday, showing a sign I saw on a beautiful Sunday afternoon in San Francisco's Cow Hollow neighborhood, a few extra words: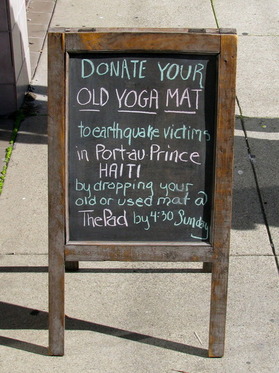 1) Am I making fun of yoga? No indeed. Although this is not a featured part of my public identity -- compared with the beer-lover part, the aviator part, the interested-in-China part, and so on -- I enjoy and value yoga and particularly respect good teachers. I am not very adept at it so appreciate their patience all the more.
2) Am I making fun of this particular enterprise, The Pad? No. As I have heard from many sources today, it has a very good reputation. If I lived in the neighborhood, and if I could register under a fake name, I would sign up.
3) Am I making fun of the idea of helping disaster victims in whatever way is possible? No. Several people wrote to say that mats could be a comfort to people who would otherwise be sleeping on the streets in Haiti.
4) But, come on, some things are just funny.
Update. Here is a note I have received from Leila Burrows, of The Pad Studios,  whose sign was in the picture. I quote it with her permission. I mean her and her team no disrespect and -- stipulating point #4, above -- regret any hurt feelings I may have caused.  

"I do not follow your feed, however, we have received some rather irritated email communication since you posted a photo of our A-frame, sandwich board, inviting people to donate their old or used yoga mats to be sent to Haiti and used in the overly crowded hospital beds. I'm only sorry the intention of this drive was unclear to you. Actually, our drive was a part of a bigger organized effort spear headed by the founder of JADE yoga mat, during the weekend of the annual San Francisco Yoga Journal Conference. JADE asked studio owners, teachers, students alike to give up their old or used mats so that the thousands of suffering people in Haiti may have somewhere softer the  ground to sleep.




"You may also know that my business partner and I run donation events on monthly basis to contribute 100% of the program earnings to people in need. Most recently we raised $3200 to fund the education of 15 students in Ahmedabad City, India. 




"May we all contribute in one way or another to help ease the tremendous suffering that continues in Haiti."