The glamorous life of a journalist (continuing series)
On a TV show this morning to discuss my cover story in the current issue, about how America looks -- for better and worse -- when you've been looking at it from afar. The host very graciously introduces me, and says, "Our next guest moved away to Canada for several years and is writing about how it feels to be back in America."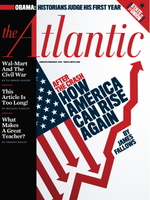 Hmmm! Co-host graciously does a segue, "Actually, that was China, and... "  But it got me thinking; Imagine how I could have cut down on back-and-forth travel costs if I had done the "Let me tell you how America looks from a foreign perspective" schtick this whole time from, say, Vancouver, or perhaps PEI, rather than Chengdu or Ya'an! And how much better the beer (and air quality) would have been....
Not to suggest that I am anything other than fully grateful for any broadcast opportunity to spread the Atlantic's gospel. And, by the way, I hope you find the article interesting.