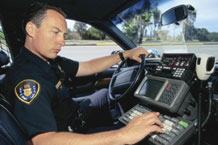 The
New York Times
reports
on automotive Web connections as a potentially dangerous new source of distraction for motorists. But as comments on similar articles on use of cell phones make clear, police themselves are some of the biggest highway multitaskers. Here's a cornucopia of
police mobile communication gear
.
In an article on the law enforcement site policeprofessional.com, "Greatness and danger in police car computers," a designer of interfaces for police mobile data terminals (MDTs), Steven Hobber, explains:
"When the patrol car pulls into the police department parking lot at the end of an officer's shift, it comes into range of a dedicated high-speed wireless network. The video filmed during the shift is automatically downloaded and indexed to location and other data known or recorded," he said.

An MDT, for example, allows an officer to have a photograph of the registered owner of a vehicle sent to his device in around five seconds. But could all this access to information and communications be a hazard?

"While the risk of distracted driving while talking on mobiles is apparently very low, the danger from actually looking down at screens is much more immediate and obvious," said Mr Hobber.

"Entering vehicle information on the move may improve safety by presenting the officer with critical information but it also presents a risk since the officer cannot be paying as much attention to driving or what is happening in the vehicle being pursued."

I've found one academic paper on the subject, "Multi-tasking behaviors of general duty police officers," that declares in its abstract:
Our results indicate that the ability to perform the bona fide occupational requirements of a police officer will require the individual to be able to effectively process information, and multi-task. To reduce the performance decrements that occur while multi-tasking, adequate time and attention must be paid to the training of the individual tasks prior to performing them in combination.

The public needs to know more about the experience of the police themselves. Have they found training methods for safe multitasking? What can designers, legislators, and drivers learn from these earliest adopters?
(Photo credit:http://www.nist.gov/public_affairs/factsheet/homeland.htm [National Institute of Standards and Technology], via Wikimedia Commons)