Mais où sont les bureaux d'antan?
This morning I went to interview an Administration Official in what used to be known as the Old Executive Office Building, was known in the 19th century as the State, War, and Navy Building, and is now known as the Eisenhower Executive Office Building. It is this familiar, ornate, French Second Empire-style structure, called by Mark Twain "the ugliest building in the world," which is immediately to the west side of the White House. (Wikipedia photo - with West Wing of White House barely visible on left side of shot):
One happy surprise is that the security arrangements were less onerous than I expected, and less obviously heavy-handed than around the modern, embunkered U.S. Capitol complex. Check in with name and photo-ID at a Secret Service guard house; run bags through an airport-style screen (but leaving your shoes on!); then you're on your own.
Personal surprise: en route to the appointment, I took a glance into what had been... my own office, back in the Jimmy Carter era. The speechwriters didn't have much influence in those
days, but we had great offices! The colonnade in the photo below (from
The American Interest
- corresponds to farthest right-side corner of building in photo above) surrounds the balcony outside what was then the speechwriters' suite. Now, it belongs to a big shot from OMB.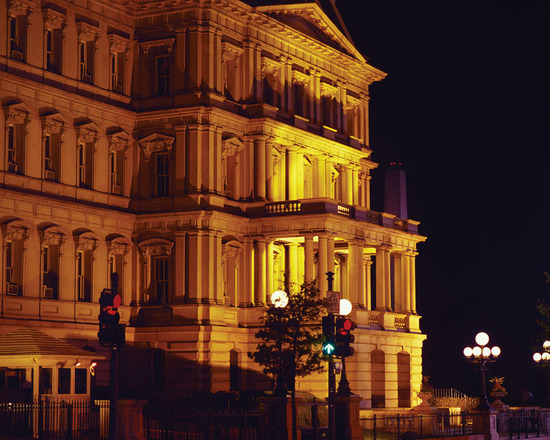 The big shot turns out to be
Jeffrey Zients
(whom I know, but didn't know was in this office), the first-ever Chief Performance Officer of the United States and a genuine business-world hotshot whose presence in the administration should be a reassuring sign of professional acumen in public service. This is probably a better use of such palatial quarters than the production of presidential rhetoric. Mixture of pride and wistfulness in seeing the same physical structure in such different times.
___
(I have learned to be explicit about these things: if you're curious,
Mais où sont
is based on
this
ballade
.)