Bootleg* versions of Google's Chrome browser, for the Mac, have been in circulation for several months. The "official beta" was released yesterday. Info and download available here. People who follow this are already aware, but I mention it for the record.
I am in the polytheistic phase of all aspects of my computer life. I do my work on three Macs (MB Air, MB Pro, and Mini) -- but also run WindowsXP and Windows programs on all of them, under
VMware Fusion
. I also keep a blighted Vista/ThinkPad alive, as a networked backup for my other machines. In various circumstances I use Chrome, Firefox, IE, Safari, and even Opera and
iRider
for web functions, though I probably use Firefox at least 75% of the time, mainly because of its extensions. Chrome is appealing because it's so fast and because its modular structure allows easier recovery from freeze-ups and crashes. Also, the Windows version of Chrome now has some Firefox-like
extensions available
. Un-surprisingly, Chrome seems especially well-matched to Gmail and Google Calendar. More surprisingly, Chrome for the Mac (unlike Firefox for the Mac) does not support "Google Gears," the plug-in that allows you to use Gmail offline etc. If you try to load it you get see this message: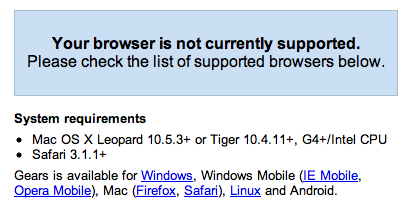 Still the entry of each new deity into the polytheist's tech pantheon is cause for thanks. Therefore I'm glad to see this new option.
__
* By "bootleg" I did not mean "pirated" or "illegal," I meant only that it wasn't in convenient, authorized, downloadable-by-the-masses form. Developers have been able to get source code for quite a while from sites like
this
.