Bing-vs-Google experiment report (updated)
I mentioned
a week ago
that, in the name of science, I would rely strictly on Bing while reporting an article I'm writing now. (Note to my editors:
almost
done, really! No, I'm serious this time!) I have a precis of the results on a segment of "All Tech Considered" with Michele Norris this evening -- link
here
when it's available
-- but here are the significant results:
1) In a sane world, we'd recognize that all search engines are great.... On most queries, I found via Bing more or less what I would have expected to find on Google. Same for Ask.com. In a way, carping about the differences is like carping about the differences between a Mercedes and a BMW, when ten years ago you were riding an ox.
2) ... and we'd also recognize that no search engine is perfect. An obvious point, and one I've addressed before (in the NYT, here), but still worth remembering. For reasons I won't go into, I was trying to find a list of all the senators who voted for and against ratifying the Panama Canal Treaty in 1978. So far, no dice -- with Bing, Google, Ask, Yahoo, etc. I have complete faith that ten minutes after I post this, I'll get a note from someone saying, "You idiot, they're right here.." with the relevant link. I'm saying, I played around long enough to think that the list was "not easily findable" via search engines, so for practical purposes it doesn't exist. Though the search turned up some nuggets like this (memo to Jimmy Carter about how to sweet-talk certain senators during phone calls about the treaty), which I found via Ask.com.
3) Bing has many winsome touches. I don't mean its most heavily promoted feature: its service as a "decision engine" for buying things. I wasn't really shopping this week, so I didn't care. Rather I mean that, for instance, when I was looking for info on the French novel La Disparition, the first hit was the French Wikipedia site for the book. (Though when I run the search again just now, English Wikipedia comes up first. These results are dynamic things.) Its way for presenting image-results is more attractive and convenient than Google's. And... lots of other carefully thought-out touches. As a whole the site looks nice, starting with its splash-screen picture of the day. Today's, below: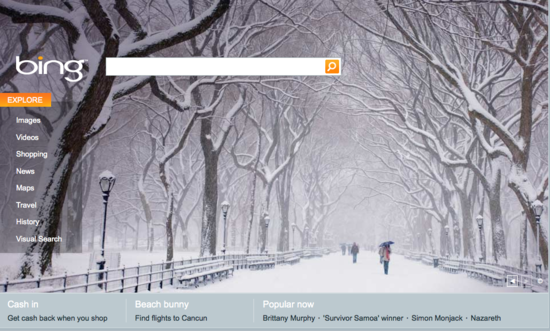 4) And, no doubt there's a big
"you like what you're used to"
factor at play. If I'd been using Bing for years and had never heard of Google, I might find Google's austere look and style "unusual."
5) But overall, sigh,
Bing seemed to leave too much out
. At least too much of what I wanted to find. I
mentioned this
last summer, when Bing first came out. It still seems to be the case -- for my purposes, in day by day use this week.
Before giving some illustrations, I need to explain a change in my Experimental Technique. After several days' worth of looking for things only on Bing, I had a nagging feeling that I wasn't getting the whole story. So rather than just give up and go to Google, I turned to the inspired site
Bing-vs-Google.com
, which gives you side-by-side results for the same search. The illustrations below rely on that comparison:
  - I was looking for Gene Weingarten's incredibly wrenching Washington Post
magazine story
about infants who died when left in overheated cars. It was the number-one hit when I did a search in Google; it was not on the first page of results with Bing. See the comparison
here
.
- I wanted to provide background for Francois Villon's
Ballade des dames du temps jadis
. The Google results of a search on "
Mais ou sont les neiges d'antan
" were just what I was looking for; not so with Bing. See
here
.
- I wanted to identify the music in a very brief Chrysler Town and Country ad I'd just seen on TV. Google had it, as the #1 hit; on Bing, it was down below a lot of chaff. See
here
. Something similar when I was looking for the music from a Palm Pixi ad,
here
.
- I was looking -- online shopping! -- for a case for my invaluable
LiveScribe Pulse
magic pen. This is what Bing is supposed to be made for, but the first non-sponsored hit is for a site
that looks
pretty fishy to me. Its intro says: "We at livescribepen.net gathered a range of stylish high tech pen now a day; here you can search all kinds of livescribe pen. You can use it either your in meeting, school, training and at the office, it's a unique pen that you can count on. If you use the smartpen your life running smooth to write what you heard." That site -- again, #1 for Bing -- seems to be filtered out of the first few pages of Google. See the comparison
here
.
Note: if you click on these Bing-vs-Google links, you may see something different from what I'm reporting here, since the site runs real-time searches of ever-changing content. (I've saved some of the screen shots from my searches but am not posting them here.)
6)
Moral of the story
? I mentioned
earlier
that after my experiment in writing
an article
with voice-recognition software only, I returned happily to the keyboard. I will return happily to Google -- and, no kidding, to Bing-vs-Google.com (or other sites that do the same, like
this
and
this
). (
UPDATE
: and this one,
GoogaWho?
, which lets you easily compare results from Google, Bing, Ask, Yahoo, InfoSpace, Lycos, AltaVista, and Dogpile.) You never know what you might have missed! There's always more to prowl around for, including that elusive Panama Canal vote.   
[Routine disclaimer: I have good friends and a variety of connections at both Microsoft and Google.]