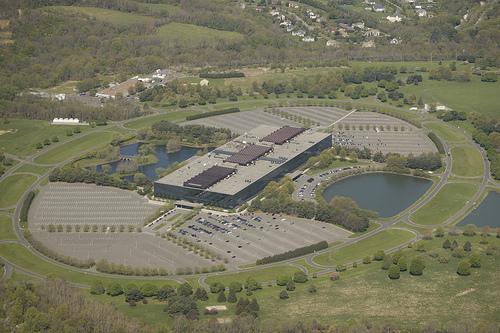 Consider (as Rod
Steiger
Serling might have introduced a
Twilight Zone
episode) the case of the Finnish-born American architect
Eero Saarinen
, who died in 1961 at only 51 years old. Few designers were as attuned to the needs of the future. And as it so often is, the future has been scandalously ungrateful.
As a book editor I flew to Europe from Saarinen's terminal at John F. Kennedy International Airport in New York. The central building has fortunately been saved by an arrangement with JetBlue, and is scheduled to reopen soon after eight years of inactivity and renovation, but one of the iconic original flight departure lounges could not be rescued.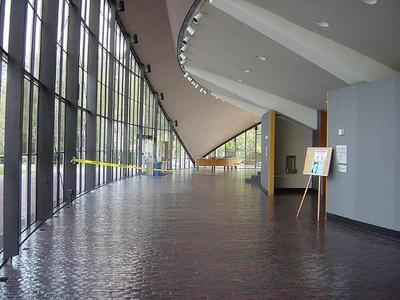 After leaving the editing side of publishing for writing, I spoke about 10 years ago at an AT&T conference at Saarinen's Bell Labs building in Holmdel, New Jersey. The building was by then owned by Lucent, the hardware side of the company that had been spun off to help sales to third-party telecommunications companies, but that in 2009, as a downsized Alcatel-Lucent, has no more use for it. While the main TWA reception building flaunted exhilarating curves, the central atrium at Holmdel was somber hushed formality in blacks and grays, relieved by a touch of green from the vegetation. A visitor, even a welcomed guest, could feel small indeed.
The view was different for many on the inside. Quite a few research veterans recall a social and environmental utopia and are alarmed by its neglect. One couple wrote to a local newspaper:
Both of us spent many years working in the spectacular and unique Saarinen building and have fond memories of the airy atriums, cafeteria and hallways full of natural light and wonderful vistas of the surrounding open spaces.



We remember how much we enjoyed the many lunchtime walks on the trails and along the roads on the property. We have fond memories of lectures and watching movies in the excellent auditorium. What wonderful resources! Why shouldn't they be available for use by our community? Why are they being mothballed, allowed to deteriorate, and wasted for so many years?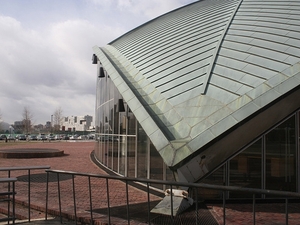 Saarinen's building was a classic not just of architecture but of social engineering, matched with a culture of intense scientific and technical collaboration with many advantages over the departmental barriers in university science. But thanks in part to its results, a new era was beginning. My friend Art Molella, director of the Smithsonian's Lemelson Center, which has been studying the places of invention, has an insightful view on his
blog
, and noted architects and community members have been studying reuse. As their
report
shows, some of the very innovations that made the building such a vibrant research center (e.g. windowless laboratories for research groups, separated by utility spaces) are now obstacles to reuse. And Saarinen shared a dictatorial streak with other architectural giants; he banned employee display of art works, nominally on the grounds that the staff were the decoration, but one suspects to suppress distraction from his masterpiece.
By now there are disturbing signs of decay in the building. Its loss would be a tragedy, but the owners and the community have yet to agree on a plan, while the local tax burden has escalated. Robert Lucky, one of Bell Labs' star researchers, was quoted by a preservationist magazine:
There is a terrible sense of forlornness about it. It's amazing how a glass-and-steel building can acquire an emptiness that's discernible from afar. The last thing we want is to raze the building and build a whole bunch of McMansions.

That indeed would be a tragedy. But it remains true that, as Art Molella points out, the very features that made the Holmdel building so well adapted to its corporate culture are challenges to redesign.
[Apologies to the memory of one of my idols for the typo in the initially published version of this post!]

Photo Credit: Flickr Users Simply Curious, IK's World Trip, and roryrory