In the Atlantic's special on-line "Editors' Choice"
gift guide
, I aim very high with
my own
wish-list item, on the principle of "if you don't ask, you'll never know." But in case you're not quite motivated to get me that item (a flying boat), a nice second choice would be the completely solar-powered airplane that took
its first flight
in Switzerland
this past week
. Note: the opening scenes in the video below, which show the plane soaring over the Alps, are very definitely in the "artist's conception" category.
More YouTube shots here. Okay, it didn't fly very long (maybe 30 seconds) or very high (a few feet above the runway surface) -- but it flew, with no external power of any sort! And 106 years ago, the Wright brothers' plane stayed aloft for only 12 seconds the first time. I will never get over the fact that there is an actual photo of that first flight, from the Smithsonian: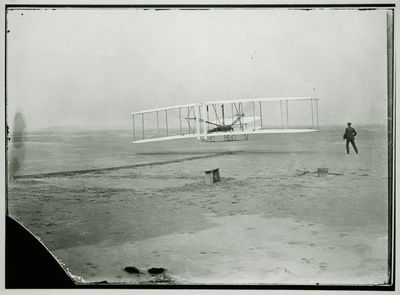 I'll promised to act surprised if I find any of these craft under the tree. (Thanks to Michael Ham for the idea.)