Were you possibly wondering...
... about that picture on the front page of today's NYT, showing a little shop in Beijing with Obama-related memorabilia in honor of the president's visit? There's a prominent hand-lettered Chinese sign in the upper left-hand part of the picture. Wonder if it says, "Welcome President Obama"? Or, "Resolutely support the development of mutually-respectful relations between China and America"? Or, "Strongly resist splittism"? Or some other topical greeting?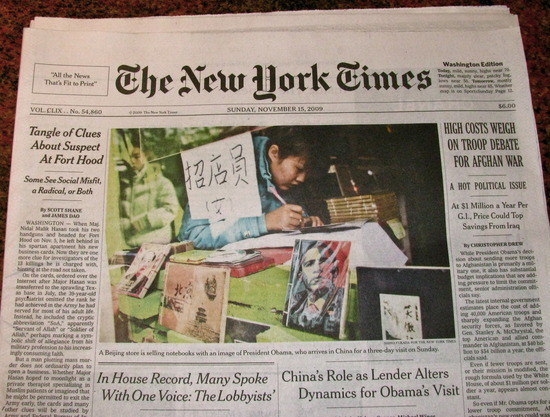 Actually, no. It says "Help wanted -- shopgirl." [ 招店員(女) ] Nice to see the practical-mindedness of the Chinese business class shining through. And a welcome indication that retail sector hiring is underway!