The other shoe drops at Caijing
According to Ian Johnson in the WSJ
just now
, Hu Shuli, the founder and editor of
Caijing
magazine in China, has finally resigned, along with her deputy Wang Shuo. This is Hu, at the magazine's big annual conference last year in Beijing. (I didn't take this picture but was at the event. Update: WSJ story now has co-byline with Sky Canaves.)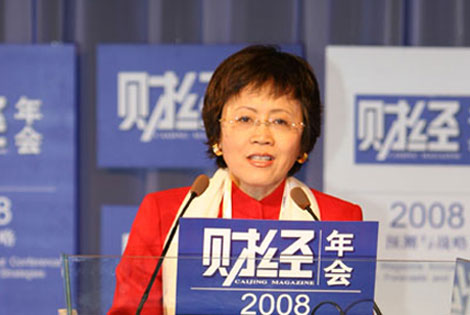 At Johnson explains in his story, tension at
Caijing
had been rising for some time. Also see previous links, including to Evan Osnos's profile of Hu in the New Yorker,
here
. The reason this news matters is that
Caijing
, a business/finance magazine that had in its 11 years become the main vehicle for independent reporting and criticism of all sorts, has been the very important exception to the rule about the strictures and limits on the Chinese domestic press. "Yes, the press is subject to tight controls, but at
Caijing
..." For instance, during the SARS outbreak in 2003,
Caijing
played an important role in questioning the government's story that everything was under control. (Disclosure: one of my sons was an intern at the magazine then.)
The potential silver lining, in character for the irrepressible Hu Shuli, is that she is apparently already planning to launch a new magazine. More to come on this topic, but news of the change itself is worth noting.