Take the Metrobús in Mexico City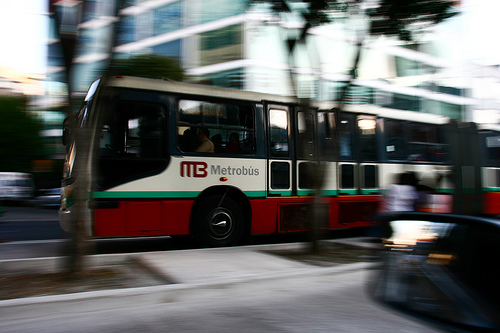 With hopes largely dashed for completing a comprehensive global climate change treaty agreement in Copenhagen next month, the spotlight will shift toward 2010 and upcoming international gatherings such as the United Nations climate change summit scheduled for next December in Mexico City.  The greening of this gridlocked, sprawling metropolis is underway, so delegates to the meeting--or any visitors to the city--should consider doing their own small part to combat global warming by taking the Metrobús when they get there.
The Mexico City Bus Rapid Transit (BRT) System, a public transportation system in the heart of a city better known for its smog, is a novel initiative to help reduce greenhouse gas emissions and hazardous air pollutants from cars and minibuses, as well as the commuting time for workers, students and others who flood the city each day.
Metrobús also offers a remarkable example of how to put a new transport system into place in a relatively short time, how to foster cooperation over competition in a city known for its rough-and-tumble politics, and how to create a public-private transport system that does not rely on massive public subsidies. In other words, not business as usual.
I had the opportunity to meet the mayor of Mexico City and other key players in the Metrobús project when they came to Harvard's Kennedy School of Government last week to accept the Roy Family Award for Environmental Partnership. Mexico City's Metrobús was chosen because of the unusual public-private collaboration among nine local and international organizations that developed and supported the project, which is considered a model for other large cities seeking timelier, less costly urban transit solutions.
In 2005, a mere three years after planning began, clean, energy-efficient, high-capacity buses began carrying passengers down dedicated bus lanes on Avenida de los Insurgentes, the city's main north-to-south traffic artery and one of the world's longest urban avenues. Since then, expansion of the Insurgentes line and the addition of a second line has resulted in about 450,000 passengers each day riding buses running on clean-burning ultra low sulfur diesel fuel along routes currently totaling 51 kilometers (about 32 miles).
By 2012, Mexico City's "green" mayor, Marcelo Ebrard, hopes to expand Metrobús to 10 lines carrying 1.5 million passengers. Since taking office three years ago, Ebrard has advocated an ambitious "plan verde" to improve the city's environment and public health, reduce greenhouse gas emissions, and make it one of the most livable, sustainable mega-cities in the world.
To do so, requires a sea change in transportation and mobility, says Ebrard, with the Metrobús the "most important" part of his strategy. Combining an expanded Metrobús system with the city's Metro subway system, new bike lanes, and improved pedestrian walkways, he wants to make it possible to get to any part of the city using public transportation, non-motorized vehicles, or on foot. The passionate young Mexico City mayor (and potential presidential candidate) plans to participate in the Copenhagen meeting next month.
Although only a drop in the global greenhouse gas bucket, Metrobús has started to make a dent in the carbon dioxide emissions from Mexico City traffic, cutting them by an estimated 60,000 to 80,000 tons per year. In 2007, it also became the first public transportation system worldwide to sell carbon credits on the international market, according to Metrobús director Guillermo Calderon and Walter Vergara, lead engineer in the Latin America Environment Department of the World Bank.
Payments to Mexico City for the carbon reductions, which Calderon hopes to use in part for bike parking at Metrobús stations, came from the Spanish Carbon Fund, a clean development initiative of the World Bank working with the Spanish Government. Vergara said the World Bank, one of the Metrobús funders, is planning to announce next month a dramatic infusion of funds, $380 million, to help support 18 other Mexican BRT projects over six years.
In Mexico City, low-emission new buses have already replaced more than 800 of the polluting, often unsafe, minibuses, or peseros, which are commonly used for getting around the traffic-clogged city. One of the most striking aspects of getting the new system up and running was the city's success in convincing minibus owners and operators to become part of the solution rather than part of the problem: they joined a public-private consortium that owns and runs the Metrobús system.
With their dedicated lanes, smart-card payments, stations, and reliable routes, the long, segmented buses have won growing numbers of converts largely because of the promise of shorter commutes--40 to 50 percent less time than they would spend riding in private minibuses or cars along these crowded streets, according to Adriana Lobo, executive director of the Center for Sustainable Transport in Mexico, a non-profit set up to provide technical assistance to the Metrobús system.
Lobo said surveys show that about 15 percent of the riders are car owners, a sign that the system is starting to get private cars off crowded commuter roads. Recent customer surveys have consistently given the Metrobús high marks, she said.
The success of the Metrobús system thus far is the result of an unusually cooperative group of partners.  The project was launched by EMBARQ-The World Resources Institute Center for Sustainable Transport, working with the Mexico City government, a Mexican NGO called CEIBA, and the Shell Foundation.  The Hewlett and Caterpillar Foundations, as well as big international financing agencies--the Global Environment Facility as well as the World Bank--also provided funding and support.
The collegial atmosphere was evident at a Belfer Center for Science and International Affairs seminar for faculty and students held as part of the Kennedy School's Roy Award events (Disclosure:  I served on the award selection committee). Metrobús participants frequently deferred to one another and gave credit to each other's groups (a refreshing difference from the sharp-elbows approach that often characterizes such projects).
With all the goodwill in the room about the future of Bus Rapid Transit expansion in Mexico City and elsewhere, Nancy Kete, director of EMBARQ, felt compelled to interrupt "the love fest" with a note of caution about the potential economic "challenges coming" in getting future deals closed with other minibus owners.  Lobo and Calderon are also worried about keeping the Metrobús system financially self-sustaining but affordable in the future.  Lobo noted that Metrobús operations are financed by fares--5 pesos (about 38 cents) per trip--that are much higher than the highly subsidized Metro subway system (2 pesos, or about 15 cents per trip). The minibus prices, about 3 to 4 pesos depending on the ride, fall in between.
Nonetheless, because creating Bus Rapid Transit systems is far cheaper and faster than constructing subway systems, their economic and environmental appeal is catching on in other major cities, particularly in the developing world. The success of Mexico City's Metrobús helped spawn a new Macrobus rapid transit system which opened earlier this year in Guadalajara, Mexico's second largest city, with President Felipe Calderón on hand. Participants in the seminar cited Curitiba, Brazil's pioneering BRT system, as well as the TransMilenio BRT in Bogotá, Colombia, one of the world's largest. BRT is growing throughout Latin America, as well as parts of Canada, Europe, Asia, Africa, and the Middle East.
Bus Rapid Transit is also catching on in American cities, with a new system is set to open later this month in Washington State's Puget Sound region. In the other Washington, where political and economic gridlock is as common as the traffic variety, a new BRT is being planned along the city's downtown K Street corridor where the wide street, and its side lanes, offers enough space to create a dedicated bus lane.  If Mexico City could do it, perhaps Washington DC could too.  But I won't be holding my breath--gridlock has unfortunately become the norm in our nation's capital.
(Photo: vonKinder/Flickr and Wikimedia Commons)