My wife just alerted me to something I had missed in the paper today: news that Nien Cheng had died in Washington this week, at 94.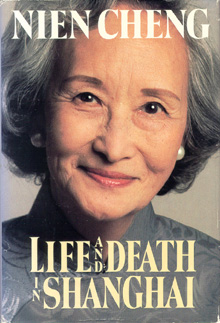 Life and Death in Shanghai, her memoir of her life in China in the pre-Communist era, and then her daughter's murder and her own imprisonment and torture by Red Guards during the Cultural Revolution, was one of the first notable accounts of those years and remains a powerful work of modern non-fiction. Although it has been two decades since I read it, many of the scenes are still vivid. Soon after it was published in 1987, my wife and I were in Shanghai and traced the neighborhoods she had described.
Nien Cheng never returned to mainland China after she got out in 1980, and over the past twenty years she lived mainly in Washington DC. Several times while walking my wife or I had the amazing-each-time experience of passing on the sidewalk a tiny, increasingly frail, but elegant Chinese woman whom we knew to be her. I never dared to say hello or thank her for writing the book, which I now regret all the more. None of her family is left, but her book will endure.
Update: she had a MySpace page, which is here.