Mad magazine takes on the birthers
I don't know whether the birthers are petering out on their own. If they're still around, here's an additional challenge for them that springs from the glory days of Mad magazine.
A friend has recalled a classic Mad riff from its "Strangely Believe It!
Strangely True
" series, produced by comedian Ernie Kovacs in the late Fifties as a knock-off of Ripley's Believe It or Not. It concerned -- well, see for yourself, in this detail of a scan of the original page, courtesy of Scott Gosar at
TheMadStore
. [Thanks to reader JS for title catch.]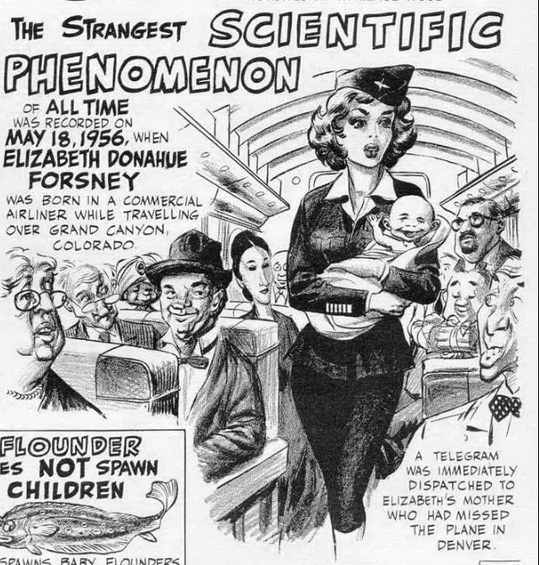 The punch line -- hardee har! -- is that news of the baby girl's birth had to be telegrammed to her mother, who had missed the plane on which the surprise birth occurred.
What's the connection to the birthers? If Barack Obama had actually been born in Kenya, then his mother would have to have been in Kenya too! I don't think anyone has dreamed of suggesting that his mother was other than the one he has always claimed, Stanley Ann Dunham. Presumably somewhere in the passport records of the United States or Kenya is information about whether his mother (a) left the United States, or (b) entered Kenya in 1961 when her son was born. If she didn't leave the United States, including the fully-fledged state of Hawaii, in the summer of 1961, then by definition her child has to have been a natural-born U.S. citizen.
I recognize that if this were a matter of -- how do we say? -- "reality" or "facts," it would have been settled long ago, as it has been for everyone except the birther stalwarts. But this is an interesting additional angle worth considering; plus, it's great to see these detailed old Mad drawings. FYI, you can see a zoomable full-page version of the "Strangely Believe It!" illustration, by Wallace Wood, if you click on the smaller image below.