I was sorry to hear that James Lilley has died in Washington, at age 81.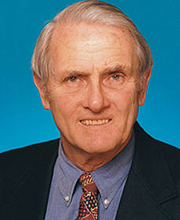 Lilley, who was born in Qingdao and mainly lived in China until age 12, was a very important figure in the modern US-China rapprochement. He was a career CIA agent who served as CIA station chief in Beijing during George H. W. Bush's time as chief of mission there (before the US and China established formal relations). He is the only person to have been ambassador both to the Republic of China on Taiwan and to the People's Republic, in Beijing, which is a convenient shorthand for his maintaining a long-term balance between the positive and the negative aspects of relations between the US and China. He kept working to expand the positive and cooperative potential between the countries, without forgetting or suppressing the areas in which they disagree. This was most notable after the Tiananmen crackdowns 20 years ago, when he was on duty as ambassador in Beijing and forcefully criticized the repression (and offered protection to the dissident physicist Fang Lizhi).
Frontline interview with Lilley from 2004, about the Wen Ho Lee case and related US-Chinese nuclear and military tensions here. Very recent interview with the China Daily (which goes easy on his intelligence backgrond) here. Statement yesterday on his death by Hillary Clinton here. I did not know him well but met or interviewed him half a dozen times over the past twenty years in Korea (where he was also ambassador) and in Washington. He was personally gracious and a skillful public servant.