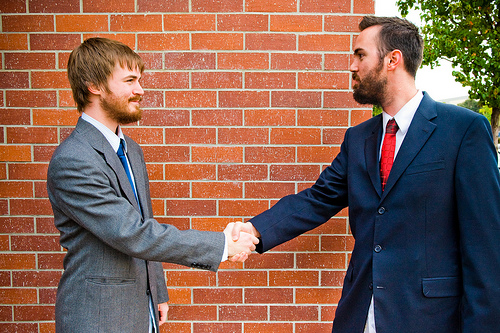 In flu season, what price prevention? That's a question the
Philadelphia Inquirer
is
asking
as religious and medical leaders discuss the ethics of the handshake. While there is medical debate about avoiding the gesture -- some doctors say a ban is only minimally effective, others carry hand sanitizer in bottles with them -- some people fear a moral contagion. One mother whose family had swine flu last summer called avoidance
"extreme. . . . That's who we are as human beings. We do shake hands. We do hug each other. We do kiss our friends on the cheek. If we let go of all that, then what do we have left? We're just walking by each other as strangers."



She still shakes hands, kisses cheeks, and refuses to use hand sanitizer, even though Har Zion Temple in Penn Valley, where her husband is the rabbi, recently installed dispensers after a member made the request.
Philadelphians' concerns on such questions have deep historic roots. Handshaking was once a common form of greeting in Europe, then displaced in the seventeenth and eighteenth centuries by hat doffing and bowing, only to re-emerge as an allegedly English innovation. But it was the Quakers, first settlers of Philadelphia, whose founder George Fox promoted the gesture as a symbol of the equality of believers -- at a time when authorities considered refusing to doff a hat to magistrates something between heresy and treason. Philadelphia even has a handshake historian with a classics Ph.D.
There's a sinister side of anti-handshake campaigns. Mussolini cited hygiene in officially banning the handshake in favor of the "Roman Salute," a gesture that has its own scholars. (Some historians think the Duce just wanted "excuse to avoid one form of human contact.") And Youtube hosts a virtual festival of conspiracy-theory handshake videos like this.
Despite hygienic reservations, the handshake, like the chair, is a Western custom that has made its way around the world. Influenza did not reverse the trend even after the 1918 pandemic, so it's not going to do so now. Some alternative gestures like elbow bumps make as much sense (outside their original cultural contexts) as rituals of safe blood brotherhood. In fact the small risk makes the clasp even more meaningful. So handshakes, perhaps followed by discreet private disinfection, are here for the duration.
(Photo: Flickr/star5112)