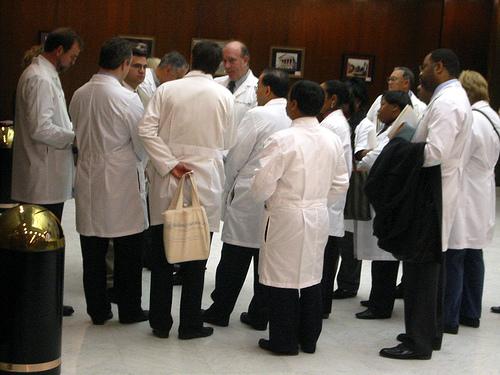 Who thought up the white-coat policy for doctors
meeting with President Obama
in the Rose Garden to advocate health care reform? Since when do physicians attend political gatherings in semi-ritual clinical garb? I haven't seen many caps, gowns, or hoods at higher education conferences. More importantly, why choose a custom that has itself been targeted for reform? Authorities in Scotland recently banned white coats from hospitals on the grounds that long sleeves can
transmit MRSA
and other infections. They substituted
a new set of unforms
, barred, incidentally, from street use Meanwhile, the AMA is still
studying
the question. This
article
in
Slate
notes other disadvantages of the symbolic attire, including inspiring enough fear to raise hypertension in some patients. Seven out of eight doctors don't wear them at work. Business suits are the dress code of Mayo Clinic doctors. (On the other hand, older patients seem to like the coats.)
White coats may turn out on balance to be a bacteriological menace, a potent placebo, or both. But for an Administration that wants to break from conventional thinking, why go out of the way to proclaim tradition? The AMA declares judiciously:
Although your Reference Committee appreciates the intent of the [dress-code] resolution, the action requested ... may have unintended consequences, a concern raised by some speakers who testified.

Whatever the AMA decides, the President seems to find symbolic theater irresistible, not necessarily to the advantage of his own causes. But at least he didn't follow suit, as George W. Bush did during a (non-medical) laboratory visit in 2007.
Photo Credit: Flickr User Waldo Jaquith