Carter "crisis of confidence" retrospective this evening
Thirty years ago this summer, Jimmy Carter delivered his famous "Crisis of Confidence"
adddress to the nation
, generally mis-identified as the "malaise" speech -- a word he didn't use. I was gone from the Carter speechwriting empire by then. My successor and longtime friend Hendrik Hertzberg was in the hot seat that time. (Below, screenshot of Carter at the start of the speech.)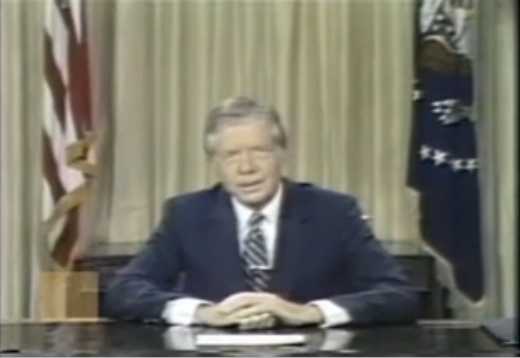 Recently Kevin Mattson, of Ohio University, published a book about that speech, its origins, and its aftermath, called What the Heck Are You Up to, Mr. President? This evening, October 7, I'll be joining him in Washington for a discussion of the speech, the book, and the general phenomenon of political calls, like Carter's, for "higher purpose" and "rebirth of citizenship." A live stream of the program, from 6:30pm to 7:30pm Eastern time, will be here.
Other details about the event, including the many political worthies who will be on hand, and sponsorship by the Progressive Book Club and the Center for American Progress, are here. As Mattson knows, I have some quarrels about first-hand details of his reconstructed account. But I certainly support the larger case he is making in his book.