The right kind of college rankings
As a one-time staff editor of the Washington Monthly magazine, I am biased in favor of that plucky enterprise and its approach to the world.
As a one-time editor of  US News & World Report, I am all too aware of the
fatuousness
imperfections of its college-ranking system. Being a pioneer in ranking has been the economic salvation of
US News
. But the premise that vastly different institutions can be precisely ranked on overall quality has its obvious limits. What are the "best" ten lines of work, ranked one through ten, for your child to aspire to? What are the "best" twenty-five cities to live in -- or pieces of music to listen to, or food to eat? Or people to marry? The only sane answer is, "it depends," which is the answer when it comes to colleges and universities too. For more on this theme, the classic source is
this 2001 article
-- as it happens, in the Washington Monthly -- by Amy Graham, who came to US News on my watch to try to clean up the rankings, and Nicholas Thompson, who has
a wonderful new joint biography
of (his grandfather) Paul Nitze and George Kennan coming out soon.
The practical solution to ranking mania is not to try to eliminate them -- it's too late -- but instead to crowd the field so that no one "Best Colleges" list has disproportionate influence. Toward that end, the Washington Monthly's latest iteration of its college rankings is valuable simply for existing and adding diversity to the ranking field. It's more valuable than that, because of the way it carries through its analysis about the traits we really should value in universities, plus letting people tailor their own rankings based on the qualities that matter most to them. Here's a glimpse at its "National Universities" ranking, which is quite different from the familiar list in US News (this shows just a few of the elements on which schools are rated).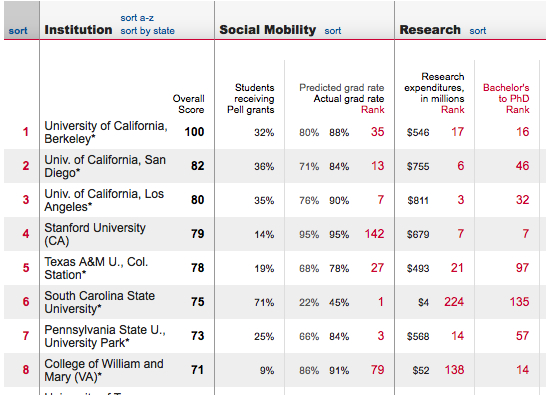 The introduction to TWM's approach to college ranking is
here
; a description of its methods is
here
; the interactive ranking system is shown
here
. As I've stressed time and again when reporting from overseas, America's vast and diverse university system is (along with its openness to outside talent) one of the advantages hardest for any other country to match, and therefore most important to protect. Among the threats to protect it from is a bogus and simplistic concept of quality. I welcome the Washington Monthly rankings as another step away from the brink of bogusness.