Once and for all with the frogs
Now that varied components of the online world are bearing down on the boiled-frog problem (Glenn Beck; Andrew Sullivan; Kevin Drum; the ever-useful Linguistics Log etc), here is the state of play:
1) Consensus that real frogs don't actually do what the cliche (and
Hillary Clinton
,
Al Gore
, and
countless others
) say they do. Consensus unfortunately has not reached the otherwise- beyond-reproach Tom Toles of the WaPo, whose cartoon today is: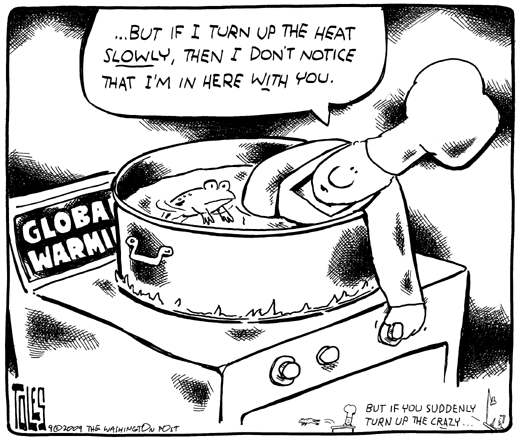 2) Consensus that one kind of frog actually does behave this way: these are frogs with their brains removed. Details here. Thanks to Michael Jones for the science on this one, and congrats to Joe Romm for putting the revised image to use.
3) Consensus that the metaphor itself is useful. See here and here.
4) Allegations that there are no substitutes. OK, here's one, as mentioned early this year: the "cat lady" litterbox problem. You have cats in the house (I speak as a cat fan*) and you don't notice the mounting smell. Then someone walks in the door, involuntarily steps back, and says, "My God! What is that reek?" Here is the classic formulation, as laid out by Don Rose here, regarding the Gov. Blago scandal:

"Out of towners often ask me how it is that folks in Chicago and Illinois put up with all the hanky and panky that goes on in our political snakepits.

"I tell them about my cat litter box.

"Currently I have two cats--once I had nine. In any case, I used to think I kept their potty clean and odor free. Then, every so often someone would come to the door, sniff the air and whisper in confidence, "I think your cat box needs changing."

"They were right, of course. They came from cat-free environments and could sense a drop of urine at 30 paces, while I had grown so desensitized to the aroma that my schnozz would tell me I was romping through a fresh pine forest."
And I bet we could even work in some slippery-slope reasoning here!

So, to answer Kevin Drum's question: we don't cling to the frog story, even knowing it's false, because there is no possible other illustration from the realm of shared human experience that would illustrate progressive desensitization. The litterbox problem is one that is actually true -- and I bet a million times more people have experienced it than have actually seen a boiled frog. There's some other psycho/linguistic reason why the boiled frog story has caught on. But for the moment, this is my candidate for a new image: the reeking kitty-litter box. If someone has a better candidate, great.
___
*On the cat-fancier theme: to demonstrate that I am a friend of all animals involved in these image controversies, the hapless frogs as well as the reeking cats, herewith a photo of the now quite elderly Mike the Cat, in his prime. He has been in loving adopted care, since our departure for China. Then and now, no odor came from his litterbox -- according to us.