More than you probably want to know about Snow Leopard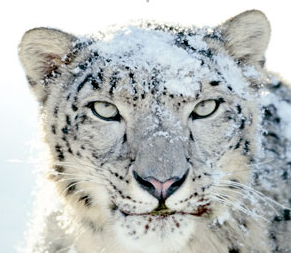 I expect to have a Mac OS X 10.6 / Snow Leopard install disk on hand for amusement over the Labor Day weekend. Between that and getting TV service re-connected -- after a month, we finally gave in -- it should be a full and satisfying few days.* What is this program they talk about, called "The Daily Show"?** And this man "Conan"?
On expository as much as purely technical grounds, I have to say something complimentary about the new 23-page-long review of Snow Leopard by John Siracusa at ArsTechnica. It has technical analysis that should satisfy anyone so inclined. Eg, this diagram and accompanying discussion of Snow Leopard's use of the LLVM approach (Low Level Virtual Machine) and more generally the explanation of how the operating system is designed to do "more with more," that is, making use of the vastly-increased processing power of modern computers.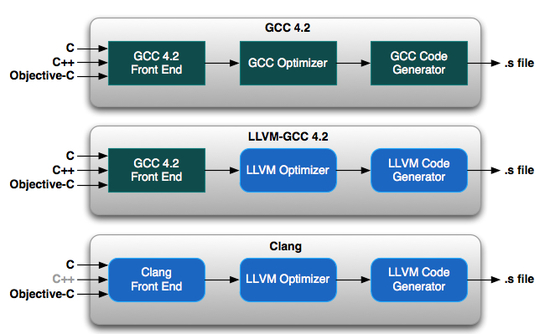 But the review also includes much more accessible discussion of the difference this system will make to ordinary users. The Go/No-go advice, which comes on page 23 of the review, is that for most users of Intel-based Macs it's an obvious Go, even though there will certainly be some bugs in this initial release. My main point for the moment is not to give advice one way or another about software upgrades but to note an impressive piece of technical writing.
UPDATE: Install disk was there when I got home; applied to one computer, MacBook Pro; finished in about 40 minutes with no problems or complications and appears to have freed up many Gigs of disk space.
UPDATE 2: After repeated attempts, the new OS has not installed on the MacBook Air, after easy handling of the MacBook Pro. This is no doubt due to the fundamental design compromise built into the MBA. To make the system unbelievably light and elegant, a lot of "basic" features were left out, like its own DVD/CD slot. So it installs programs or plays music only from "remote" discs, namely those on other machines in the same local network. Sometimes it works; sometimes it doesn't. I'll try tomorrow with hard-wired rather than Wifi connections.
UPDATE 3: Well, it looks like the failed-install to the MacBook Air had a silver lining. Have tried out all my normal programs and utilities on the Pro; all seem to work without problem on the new OS. Except, I just now learn, the beloved "K4" -- the Adobe-based production software we use to edit, lay out, and put together every article in the magazine. Hmmmm. Maybe I'll pretend I did get Snow Leopard installed on all my computers, so I have an excuse to miss the next few deadlines. Or not bother to install it on the MBA, and stick with that for actual work.
_____
*For the record, Snow Leopard will go on the household's three Macs, which are also running Windows XP under VMware Fusion; the poor ThinkPad T60 that was blighted with the original, unworkable version of Vista will be left in tech hospice to sputter out its last days; and my wife's new HP laptop, replacing one that died on our very last day in China, not only has the much-less-objectionable latest release version of Vista but also an upgrade certificate for Windows 7, which will be applied in due course.
** Just a little joke. I know it's on summer hiatus; even in China I could see it on computer, though boy does the Great Firewall slow down video feeds.