From the magazine: Field of dreams in China
The new issue of the Atlantic is worth reading cover to cover -- and IMHO better read on paper than on line. For sometime soon: talking systematically about what kind of material is best read, scanned, absorbed, enjoyed in what kinds of media - handheld, computer screen, "real" print, Kindle-style reader, and so on.
For the moment, a mention of my own very short article in this issue: a profile of an American family that has ended up in one of the most beautiful parts of China, trying -- against considerable odds -- to put together a coalition of local residents, Communist party officials, businesses, and NGOs to preserve traditional Chinese culture against the onslaught of kitsch-style development otherwise transforming the country's look. Their adopted home town is Xizhou, in the lush, southerly Yunnan province, and this is one view of their "Linden Centre," with local kids biking by.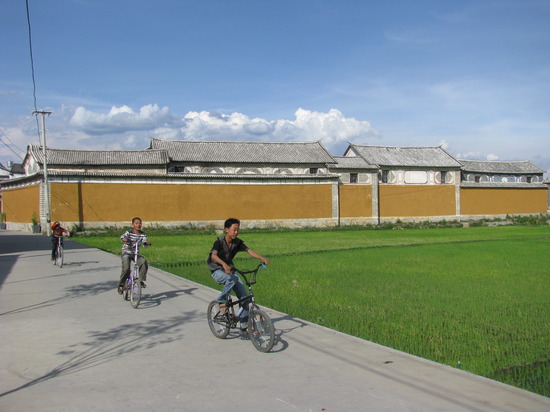 More on Brian and Jeanee Linden and their ambitions
here
, and a four-minute narrated slideshow of the town, the center, the family, and the challenge is below (or
here
). That is Brian Linden, who first became known in China 25 years ago when cast in a movie about a
famous and tragic
US-Chinese interaction, in blue jeans and white shirt in the opening shot below. 
If you can make your way to Yunnan, this is very much worth a visit. Below a look at "downtown" Xizhou this spring, with the bean harvest being threshed.
From a terrace in the Linden Centre.