A few more random return-to-the-homeland notes
I will never do this systematically, so I'll keep jotting them down at random. As I repatriate, I notice:
- Not as many very fat large Americans as I was expecting. Am I looking in the wrong places? So propagandized into thinking that all of my countrymen are obese that expectations are off? Something gone wrong with my visual judgment? Something gone right with public health? I don't know. Just telling you what I have (not) seen.
- In a number of airports the past few days. I can't help noticing the moronic, utterly rote and meaningless announcements that begin, "The Department of Homeland Security has determined that the threat level is Orange. Please be alert..." The way you can tell that I'm still not fully acclimated is that I notice the announcements at all. For everyone else, they are 100% white noise. Is there a stupider aspect of national policy at the moment than these formulaic "threat level" announcements, which are always orange and which give no useful info whatsoever? Okay, I'm sure there's something stupider, but for rhetorical purposes I'll say that I can't think of one right now.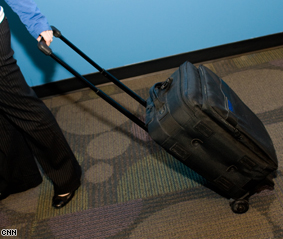 - When I am king: I will outlaw "wheelie"- style rollable bags for carry-on luggage. Wheels and a handle on a big, heavy suitcase meant to be checked? Perfectly reasonable. But if you're going to carry something onto the plane, the law should require you actually to carry the thing, all the way to your seat. Why do I care? The wheelie triples or quadruples the floor space occupied by any one person, and the people tugging them don't look behind. I get my revenge by kicking the bags as they're being dragged across my path and tripping me. Then I act like it was an "accident."
- But even before that I will outlaw: leafblowers. God in heaven, do I hate that noise. Unfortunately, the neighborhood abounds in households that love hiring crews for the all-out leafblower experience -- they stagger their days, so it happens pretty much nonstop. I realize that the Beijing approach (below) is probably not practical in the U.S. But, hey, I actually have used a rake in my time. Part of the new Clean Energy policy for America?
As is obvious, I'm auditioning for Andy Rooney's role as public crank.