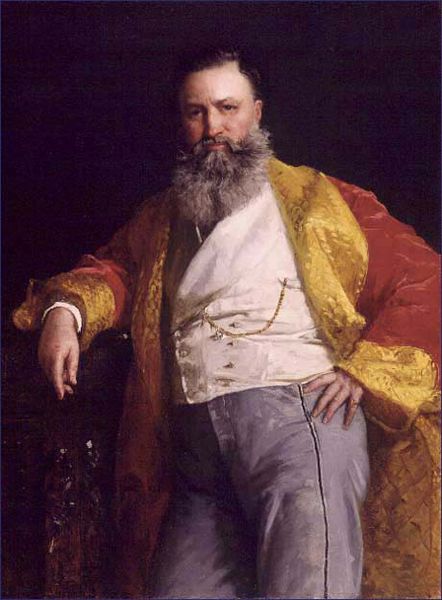 Source: Wikipedia
Who really pioneered the Cash for Clunkers concept? Why, those magnificent men with their sewing machines: the irrepressible failed actor Isaac Merritt Singer (above) and his crafty lawyer partner Edward Clark, a duo whose mutual enmity did not keep them from inventing much of modern consumer-durable marketing strategy.
Ruth Brandon in A Capitalist Romance: Singer and the Sewing Machine (1977 and sadly out of print) quotes an 1857 announcement from one of their advertisements that they invited trade-ins of not only their previous models, but of competitors' products,
...too imperfect in contrivance and workmanship ever to be used with success. These worthless Machines now stand directly in the way of the sale of good ones. Their existence causes great pecuniary loss to us. . . . We, therefore, have an extensive and direct interest in having all bad Sewing Machines finally withdrawn from the market, and our new improved ones substituted in their place.

And they continued:
The old machine will be brought to our office in New York, and there be immediately broken up and destroyed.

Sales grew that year by nearly 50 percent. Viva the 150-year-old heritage of Cash for Clunkers.